Work to start on £22m Lanarkshire Beatson cancer centre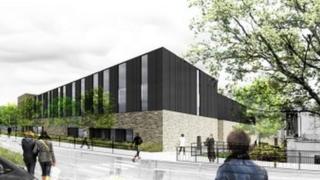 Work is set to begin on a new cancer treatment centre for the west of Scotland after detailed plans for the site in Lanarkshire were approved.
The £22m radiotherapy centre, based at Monklands General Hospital in Airdrie, will be called the Lanarkshire Beatson.
It will handle up to 80 patients a day who require treatment for lung, breast, prostate and rectal cancers.
Work on the facility will start in the next few weeks. It is expected to begin treating patients in about 18 months.
Initially, the majority of patients are expected to come from Lanarkshire.
However, over time, patients from other areas, including parts of Forth Valley and Glasgow, may also be treated there.
'Important step'
Health Secretary Alex Neil said: "This is an important step forward in this new £22m radiotherapy facility at Monklands Hospital, which will mean that more patients in the west of Scotland will be able to access the best possible treatment closer to home.
"This is very important as we drive home our message to detect cancer early, get treatment and see more people continuing to survive this disease."
Janette Fraser, chairwoman of the West of Scotland Satellite Radiotherapy Project Board, said: "The approval of these detailed plans is the final step in the development process and we are delighted that we now have the green light to create this important and much needed new facility.
"As a great deal of work has already been carried out over the last year to finalise the design and layout we will be able to move forward very quickly with the construction.
"This means the new centre could be treating patients in around 18 months time."