Southern General Hospital warned on elderly patient care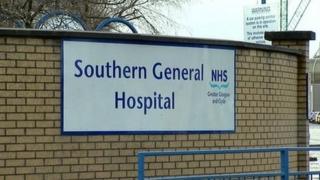 Health inspectors have found numerous problems with elderly patient care at Glasgow's Southern General Hospital.
They found some patients with cognitive impairment were being moved from ward to ward, against hospital policy, to help cope with new admissions.
The inspection team also found dozens of cases of elderly patients being kept in hospital due to delays in finding a social worker to assess their needs.
Glasgow health board apologised for the failings, which it is addressing.
The unannounced inspection visit by Health Improvement Scotland (HIS) was carried from 18 to 20 February this year.
Patient 'boarding'
Inspectors found "a number of areas of strength" but also identified instances where care of elderly patients was below the expected standards.
They expressed concern "about the patient flow and capacity", especially in relation to the practice of "boarding", which is when a patient is moved around to meet the needs of the hospital and not the patient's clinical needs.
The inspection report said: "NHS Greater Glasgow and Clyde 'patient flow policy' states that patients with cognitive impairment are not boarded. However, we found this was not the case.
"For example, a patient with known dementia and increased confusion had several ward moves.
"Although some of these moves were due to clinical need, some were documented as being due to capacity issues in the hospital."
The inspector's report also found dozens of cases where patients planned discharge from hospital had been delayed and said this could be damaging to their wellbeing.
"We noted that 48 patients were listed as delayed discharge," the report said.
"We were told that patients are waiting up to 54 days to be allocated a social worker to allow an assessment of needs to be carried out.
"This is detrimental to the patients as it can lead to issues with cognitive impairment, increased risk of infection and impact on functional ability."
Elsewhere, the inspection team found examples of:
incorrectly completed "do not resuscitate" forms;
no evidence of care plans being used to inform and evaluate the care being given on the majority of wards inspected;
mentally incapacitated patients with "no assessment of capacity to consent to treatment" - in one case a patient was sedated;
staff with a "variable understanding of the application of the Adults with Incapacity (Scotland) Act 2000";
"clutter and noise" on one ward and an obstructed toilet pathway.
Jacqui Macrae, HIS head of quality of care, said: "During this inspection, we were particularly concerned about patient flow and capacity within the hospital.
'Friendly staff'
"On the majority of wards inspected we found no evidence of care plans being used to inform and evaluate the care given to patients.
"We did, however, observe friendly and polite interactions between staff and patients, with the most speaking positively about the quality of care received."
Ms Macrae added: "This inspection resulted in two areas of strength and 16 areas for improvement which NHS Greater Glasgow and Clyde must address as a matter of priority.
"We will follow-up these concerns at future inspections."
Rory Farrelly, NHS Greater Glasgow and Clyde's acute director of nursing, said: "We are pleased to note that the inspection team observed friendly and polite interactions between staff and patients, with the most of the patients interviewed speaking positively about the quality of care received.
"However, we are sorry that in a number of areas we are still falling short of the standards expected in all our hospitals.
"Clearly we need to reinforce some of our policies with staff and provide additional training where required."
Mr Farrelly said it remained the health board's policy "not to move patients with cognitive impairment unless under exceptional circumstances".
'Highest priorities'
He said the instance referred to in the inspectors' report "was one of these occasions".
"It remains one of our highest priorities to prevent this happening to older people and to ensure that the patient's interests are best served while in our care," he said.
"Our action plan demonstrates our commitment to address all of the improvements raised in the report."
Mr Farrelly said the health board noted the "specific comments" by inspectors "about capacity" at the hospital.
"It must be understood that we use our inpatient acute beds flexibly across all our hospital sites to give us sufficient capacity to cope with patient demands including when there is a surge at any one particular hospital," he said.
"If one of our hospitals is experiencing such a surge we divert GP emergencies to the nearest neighbouring hospital thus ensuring that our hospitals remain open at all times.
"We value these inspections as they often reinforce areas where we can further improve the services we provide."