Pope Francis appoints Joseph Toal new Bishop of Motherwell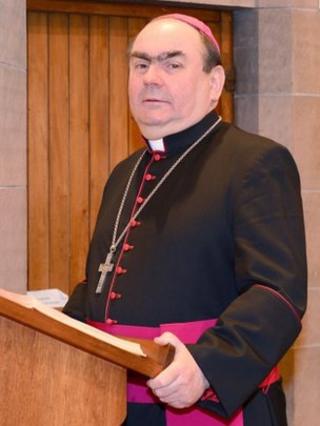 Bishop Joseph Toal has been appointed as the new Bishop of Motherwell.
Pope Francis confirmed that Bishop Toal would leave his current role as Bishop for Argyll and the Isles to lead Scotland's second largest diocese.
Bishop Toal has been administrator of the diocese which has been vacant for a year, since Pope Francis accepted the resignation of Bishop Joseph Devine.
His installation will take place in Our Lady of Good Aid Cathedral, in Motherwell, on a date to be confirmed.
Bishop Toal said: "Over the past eleven months, I have come to know the Diocese of Motherwell and appreciate the warmth and generosity of the clergy and laity, I look forward to deepening that relationship with them.
'Deep faith'
"While I am sad to be leaving my home diocese of Argyll and the Isles, I know the deep faith of the people there will sustain them as they await a new bishop and I ask them to pray for me as I prepare to translate to the Diocese of Motherwell."
Bishop Toal was born at Inverness in October 1956 and educated at Roy Bridge Primary School; St Vincent's College, Langbank; St Mary's College, Blairs and the Royal Scots College in Valladolid, Spain.
He was ordained at St Columba's Cathedral in Oban on 10 July 1980.
He was ordained Bishop of Argyll and The Isles at Oban in December 2008.
The President of the Bishops' Conference of Scotland, Archbishop Philip Tartaglia, said: "While sympathising with the priests and people of the Diocese of Argyll and the Isles on the transfer of their much loved and respected bishop, I welcome the nomination of Bishop Joseph Toal as the new Bishop of Motherwell and I wish him every blessing in his new appointment."
The previous Bishop of Motherwell, Bishop Devine, tendered his resignation, as is customary, on his 75th birthday in August 2012.
He was told to continue in office as a successor was not in place. His resignation was accepted by Pope Francis last year.