Fancy dress robber Matthew Bryce handed out cash in pub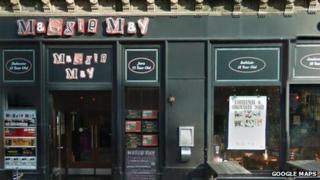 An armed robber who wished bar staff "Happy New Year" and handed them £20 each has been jailed for six years.
Matthew Bryce, 54, wore a fancy dress-style police hat during the raid at the popular Maggie May's venue, in Glasgow city centre, on 31 December last year.
At the High Court in Glasgow, he also admitted robbing the nearby Tron Theatre box office on 17 December and William Hill bookmakers days earlier.
Bryce was caught after his DNA was found on the police hat he had dumped.
Prosecutor Stephen McCloy told the court how Bryce got money from the till at Maggie May's, on Argyle Street, but then refused to take a bundle of pound coins that was offered to him.
'Terrible ordeal'
Mr McCloy went on: "He then handed the three staff members £20 each and wished them a 'Happy New Year' before casually walking out the main door."
Bryce also raided the Tron Theatre box office while threatening staff with a hammer before fleeing with £55 in cash and an iPhone.
Two days earlier, he and an unknown accomplice stole £195 from a William Hill bookmakers in the city's Paisley Road West.
Jailing Bryce, judge Lord Burns said: "The people working in these premises must have been subjected to a terrible ordeal."