Elaine Doyle murder: Bullying claim over confession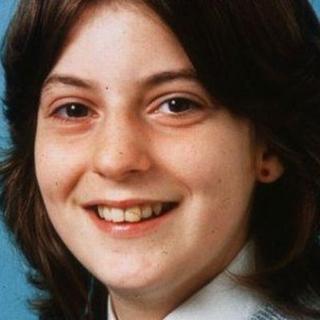 The Elaine Doyle murder trial has heard that a man who admitted killing the teenager was "bullied" into confessing.
Colin McIntyre, 44, told the High Court in Edinburgh that he was terrified by threats of violence from police when he made the confession as a 16-year-old.
John Docherty, 49, denies killing Elaine in Greenock in 1986. He claims the killer may be one of 41 other men named by his defence team.
Mr McIntyre's name is one of those on the list.
Elaine was found naked and strangled just yards from her Greenock home early on 2 June 1986.
The trial has heard how she had not returned from a Sunday-night disco at the Celtic Club in the town's Laird Street.
At the time, 16-year-old Mr McIntyre had a part-time job in the Shamrock Club - another Celtic supporters' club in Greenock.
Police visited him there five days after Elaine's body was found and he told them where he had been the previous Sunday.
The court heard that later that day Mr McIntyre had apparently made another statement.
Graphic account
Advocate depute John Scullion, prosecuting, read what was supposed to be a graphic account of Elaine's death.
The statement told how Mr McIntyre had left his home in John Street, met three friends in the town centre and had also met Elaine - someone he knew from hanging round a pool hall and amusement arcade.
The four youths walked her home and they all went down a lane off Ardgowan Street - where the girl's body was found.
As they talked, one of Mr McIntyre's friends began kissing Elaine and taking her clothes off.
The four youths gathered round her as she started to struggle.
Mr McIntyre, according to the disputed statement, became aroused as he touched the back of Elaine's leg.
"It was obviously going to be a gang bang but she didn't want to do it," the statement read.
The account went on to describe how the girl sat down with no clothes on and another youth approached, swinging something which was about one and a half feet long and thin.
Elaine tried to stand but fell back, hitting her head and did not move.
Mr McIntyre is alleged to have told police: "Willie then picked up a piece of string and put it round her neck."
The statement said that afterwards the youths picked up Elaine's body and put her beside bushes on the other side of the lane.
'Sick joke'
The account concluded by saying they gathered up Elaine's clothes then left in a panic.
Defence QC Donald Findlay disputed Mr McIntyre's claim that detectives had simply written the unsigned statement for him.
"You did, in fact, confess to the murder of Elaine Doyle and there could be two reasons.
"One would be it was something of a sick joke on your part, attention seeking, who knows what, some perverted reason.
"The other, of course, is that the confession was true and you were involved in the killing of Elaine Doyle."
Mr McIntyre - who said he was released by police hours after the statement was written - denied this.
"I was forced to confess with threats of violence," he said. "I was scared. I was petrified."
Mr Findlay pointed out that the statement attributed to Mr McIntyre included considerable accurate detail.
There was a reference to Elaine being at the Celtic Club disco. The timing for the meeting in the town centre was about right.
There was a description of one of the youths taking her clothes off.
"This account that you gave at least suggests a possible explanation why the girl ended up naked," said Mr Findlay.
The statement had also described how the girl was strangled.
Mr Findlay challenged: "Do you want me to show you a picture of Elaine Doyle lying on a mortuary slab with the mark on her neck the string had made or do you remember it?"
"I don't want to see the picture," Mr McIntyre told him. "No I don't remember it from the time."
Accused charges
Mr Findlay continued: "It sounds like a statement made by somebody who was there, does it not? That somebody was you." "No" insisted Mr McIntyre.
"I suggest you were there when Elaine Doyle was killed. Tell us now, for everybody's sake, who killed her," said Mr Findlay. "I don't know," Mr McIntyre told the lawyer.
The lawyer asked why Mr McIntyre thought officers should put their careers and pensions on the line by fabricating a story and he replied: "I think about it a lot and I don't know why."
Mr Docherty, now of Dunoon, denies murder and claims that at the time he is alleged to have stripped and strangled Elaine he was with his parents - who are no longer alive - at their home in Anne Street.
The charge alleges that on 2 June 1986 in a lane near Elaine Doyle's home in Ardgowan Street, Greenock, he seized her by the hair, struck her on the head and either removed or compelled her to remove her clothing.
The charge goes on to allege that Mr Docherty forced Elaine to the ground, pushed her face into the ground, sat or knelt on the teenager then placed a ligature round her neck and strangled her.
Mr Docherty also denies stealing a handbag from Ardgowan Street on the same date.
He further denies a charge of attacking another woman, Linda Hargie, on various occasions between 1990 and 1995 at an address in Anne Street, Greenock, by seizing her and pushing her and punching her on the head.
The trial continues.