Elaine Doyle murder: Man denies being sketch 'suspect'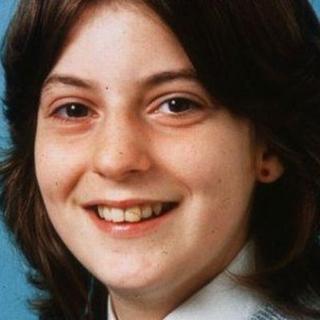 A man has denied that a sketch of a possible suspect in the Elaine Doyle murder case was him.
William Campbell, 51, told the High Court in Edinburgh that the man in the drawing did not have his hair style.
On trial is John Docherty, 49, who denies killing Elaine 27 years ago in Greenock. He claims the killer may be one of a list of 41 men drawn up by his defence team.
Mr Campbell's name is one of those on the list.
The picture shown in court was drawn by a police artist after a sighting of a young man acting suspiciously in a Greenock stairwell the night Elaine Doyle died.
There were two versions, one black and white and another in colour - showing distinctive ginger or auburn hair.
Mr Campbell agreed that, in 1986, his hair had been auburn.
Looking at the sketch he told the jury: "My hair may have been the same colour but it was a completely different style."
He also said the blue V-neck pullover the suspect was wearing would not have been his choice of clothes. Mr Campbell preferred T-shirts or sweat shirts.
Special school
Mr Campbell was asked if he killed 16-year-old Elaine and replied: "No."
He described how he attended a special school in Greenock for the whole of his education, hampered by learning difficulties, and had also been diagnosed as epileptic which further blurred his memory of the time when Elaine's naked body was found near her Greenock home.
A police report from 1986 described the relationship between him and Elaine as "on talking terms at pool hall".
Mr Campbell told the trial that Elaine was his friend and would joke about him being her boyfriend to cheer him up when he felt low and depressed.
Another witness, who like Elaine and her friends hung around a pool hall in Greenock town centre, said it was "ridiculous" his name was on the same list of suspects.
Port operator Martin Docherty, 45, said he would sometimes walk Elaine home but they were "just friends".
Mr Docherty also said that when Elaine was murdered he had blond streaks in his dark brown hair.
He said soon afterwards he stopped going to the pool hall because of a growing interest in motorbikes.
Accused
John Docherty, now of Dunoon, denies murder and claims that at the time he is alleged to have stripped and strangled Elaine he was with his parents - who are no longer alive - at their home in Anne Street.
The charge alleges that on 2 June 1986 in a lane near Elaine Doyle's home in Ardgowan Street, Greenock, he seized her by the hair, struck her on the head and either removed or compelled her to remove her clothing.
The charge goes on to allege that Mr Docherty forced Elaine to the ground, pushed her face into the ground, sat or knelt on the teenager then placed a ligature round her neck and strangled her.
Mr Docherty also denies stealing a handbag from Ardgowan Street on the same date.
He further denies a charge of attacking another woman, Linda Hargie, on various occasions between 1990 and 1995 at an address in Anne Street, Greenock, by seizing her and pushing her and punching her on the head.
The trial continues.