Men jailed over sex worker assault and robbery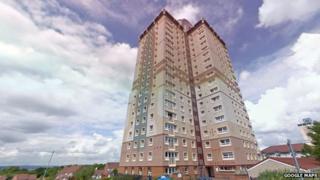 Three robbers were sentenced to a total of over 15 years in prison after leaving a sex worker bound and gagged.
Patrycja Brzozowska, 27, was found beaten and partially clothed in her flat after the robbery.
Jason Barton, John Coulter and David Coulter were all found guilty of assault and robbery at the High Court in Edinburgh.
A jury heard the trio had targeted Ms Brzozowska as they believed she would not contact the police.
Cries for help
A jury heard that Ms Brzozowska, wearing only a pink mini-skirt, bra and one knee-length black sock, was found in her Motherwell flat by Avon lady Chiree Klepp who was on her rounds in the 17 storey tower block.
Ms Klepp, 22, told how she heard muffled cried for help but all she could see through the glass in the door of the flat was a head swathed in black and yellow tape.
A jury heard that Ms Brzozowska's wrists were tied so tightly with cable ties that her hands were white and the tape round her mouth almost prevented her from speaking.
She had managed to free her feet which allowed her to open her door.
Ms Klepp called the tower-block's caretaker, Kenny Watson, 51, who ignored Ms Brzozowska's protests and called police.
Ms Brzozowska had answered her door in Merryton Tower thinking she was about to welcome a punter.
She told the man she charged £100 an hour and he put his hand into his back pocket. She thought he was reaching for money.
"Instead he hit me to my left cheek," she said, giving evidence with the help on an interpreter. "He punched me twice. I fell to the floor."
She said she got up and ordered the man to leave. "I was shaking. I was crying. I didn't know what was going to happen."
Her arms were pulled behind her back and when she tried to struggle free, her head was covered with an item of clothing.
One of her assailants kept his foot on her head, pinning her down, while his two accomplices ransacked the flat.
'A careful plan'
At the High Court in Edinburgh, Jason Barton, 41, from Coatbridge, Lanarkshire, was sentenced to six years in prison.
John Coulter, 24, also from Coatbridge, was jailed for five years because he has less of a criminal record.
David Coulter, 21, of County Armagh, Northern Ireland, was given a four and a half year sentence because Lady Wise said he was "effectively a first offender."
The trial heard how they had hatched a careful plan to carry out the raid. Advocate depute Jim Keegan QC, prosecuting, suggested that they had targeted a prostitute, believing she would be reluctant to involve police.
Ms Brzozowska advertised her services on an internet web site which included a mobile phone number.
Police seized David Coulter's phone and found he had called the number. He had also hired a blue Hyundi which was picked up on CCTV as it headed for the flats.
The prosecutor told a jury at the High Court in Edinburgh that Ms Brzozowska had been treated "despicably" and might have lain, alone and helpless, for some time.
"It is more fortunate that Kenny Watson, the concierge, called police despite the fact that the victim was not keen to involve them.
"I suggest to you they (the accused) knew that."
When sentencing the trio, Judge Lady Wise told the men: "This was a carefully planned attack" and added: "The manner in which it was carried out was callous and brutal."