Minesweeper helps in Firth Of Clyde dinghy men rescue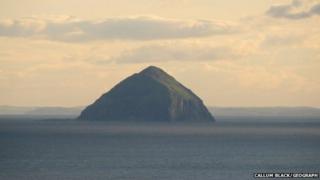 A Royal Navy minesweeper helped rescue two men after their dinghy overturned in the Firth of Clyde.
The pair initially clung to the hull of their boat but were then swept away from it by choppy waves.
Coastguards asked HMS Blyth, which was on patrol near Ailsa Craig, to pick them up after the men let off a distress flare to guide the vessel in.
The Girvan lifeboat and a Royal Navy helicopter also went to the scene. The men were not injured.
Liam Colquhoun, watch manager at Belfast Coastguard, which covers the Ayrshire coast, said: "The minesweeper rescued the two casualties within 20 minutes of the initial call being made.
"They were cold and wet and were checked over by the minesweeper's medical team. They weren't injured.
"Fortunately, they were wearing lifejackets and carrying flares."