Elaine Doyle murder: Man who kissed her denies killing her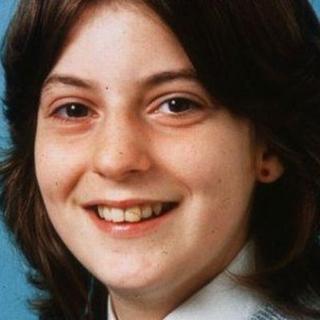 A man who described himself as "a sort of boyfriend" of Elaine Doyle has denied murdering her in Greenock.
Andrew Sutherland, 45, told the High Court in Edinburgh that he was at home watching games in the 1986 World Cup on the night 16-year-old Elaine died.
The court also heard how Elaine's father found them kissing one night.
John Docherty, 49, denies murdering Elaine in June 1986. He claims the culprit might be among a list of 41 names, which includes Mr Sutherland.
When confronted with the allegation that he might be responsible for killing Elaine, Mr Sutherland replied: "Absolutely not."
'Footpath embrace'
The trial has heard how in February 1986 police in Greenock saw Elaine's dad, Jack Doyle, in the street.
He told them he was looking for his daughter who was late getting back from a disco.
Former PC Patrick Martin, 51, offered to help and found the girl in a bus station.
"When I first saw her she was in an embrace with a young male of about her age on the footpath. She was kissing the man at the time," he said.
Mr Sutherland said he had been "sort of boyfriend-girlfriend" with Elaine for about 18 months but that February he had not seen her for a time.
After a chance meeting in the Celtic Club, in the town's Laird Street, they walked to the bus station where they were "winching".
Mr Sutherland said Elaine was taken back to her family in a police car.
He walked home during which he smashed a store window in Greenock and stole some goods.
The witness said he was sentenced to three months detention in a young offenders' institution and had been released just days before Elaine died.
'Nothing to hide'
Mr Sutherland, now a full-time carer for his disabled wife, told the trial he was embarrassed about the break-in.
"I was in and out of prison during that period. I broke the law and paid the price. I have nothing to hide."
John Docherty, now of Hunters' Quay Holiday Village, Dunoon, denies murder and claims that at the time he is alleged to have stripped and strangled 16-year-old Elaine he was with his parents - who are no longer alive - at their home in Anne Street, Greenock.
The charge alleges that on 2 June 1986 in a lane near Elaine Doyle's home in Ardgowan Street, Greenock, he seized her by the hair, struck her on the head and either removed or compelled her to remove her clothing.
The charge goes on to allege that Mr Docherty forced Elaine to the ground, pushed her face into the ground, sat or knelt on the teenager then placed a ligature round her neck and strangled her.
Mr Docherty also denies stealing a handbag from Ardgowan Street on the same date.
He further denies a charge of attacking another woman, Linda Hargie, on various occasions between 1990 and 1995 at an address in Anne Street, Greenock, by seizing her and pushing her and punching her on the head.
The trial, which is being heard before Lord Stewart, continues.