Sci-fi fans descend on Glasgow for Satellite 4 convention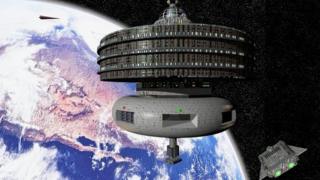 Hundreds of science fiction fans from around the world have descended on Glasgow for a major convention.
Satellite 4, being held at the Crowne Plaza Hotel next to the River Clyde until Monday, is the 65th British Science Fiction Convention.
More than 850 delegates were due at the event, which covers literature, films, art, music and space science.
It was to be attended by science fiction fans, authors, artists and publishers.
Guests of honour include authors Juliet E McKenna and John Meaney, artist Jim Burns and world-renowned British scientist Dame Jocelyn Bell Burnell.
'Economic benefit'
John Wilson, of Satellite 4, said: "This is the largest, and longest-running, general science fiction convention held in the UK, featuring academics, writers, artists, publishers and other leading experts from across the sci-fi and fantasy genres.
"It's about providing a platform for discussion, networking and knowledge exchange among the world's science fiction community. There's far more than the costumed Klingon in the foyer that popular imagination thinks of as the archetypal sci-fi fan."
In 2005 Glasgow hosted the world's largest sci-fi gathering, WorldCon - the World Science Fiction Convention - and the International Astronautical Federation Congress in 2008, which collectively brought more than 7,000 delegates to the city.
Councillor Gordon Matheson, leader of Glasgow City Council and chairman of Glasgow City Marketing Bureau, said: "We're delighted to be welcoming the 65th annual British Science Fiction Convention, Satellite 4, to Glasgow, which will bring delegates from across the world to the city and generate significant local economic benefit."