Elaine Doyle murder: Brother tells of night she died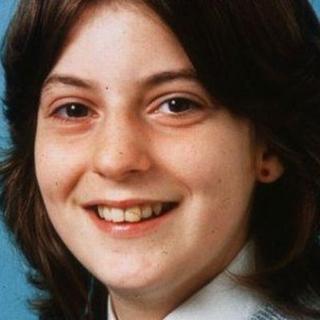 The brother of murder victim Elaine Doyle has told a court how he learned of her death after he was woken in the family home in Greenock.
John Doyle, 49, dismissed suggestions that he killed his sister, who died more than 27 years ago.
"I have nothing to hide," Mr Doyle told the High Court in Edinburgh.
John Docherty, 49, from Dunoon, denies murdering the 16-year-old in Greenock in June 1986. He claims the culprit might be among a list of 41 names.
The names were taken from files of the police investigation. Mr Doyle is one of the names listed.
Mr Doyle described his sister as "annoying but in a cute way" but admitted that in the weeks leading up to her death they had been growing apart.
The trial has heard that Elaine Doyle, who was 16, was found naked and strangled near her home in Ardgowan Street on 2 June 1986.
Her brother told the court: "There were two police officers in the house. My mum was running about greeting.
"My dad was in a state and the police were describing the circumstances of what had been going on next to the house.
They said "that a body had been found".
Hangover
Mr Doyle, who was 21, also said he was "feeling rough" that morning. He had a hangover after drinking the night before.
He said he went with his late father, postman Jack Doyle, to identify Elaine's body.
Advocate depute John Scullion, prosecuting, asked Mr Doyle: "In the early hours of 2 June 1986 did you leave the family home?" Mr Doyle replied: "I did not."
"Did you kill your sister?" the prosecutor continued. "I did not," repeated Mr Doyle.
The suggestion was "ridiculous," he added.
In response to questions from defence QC Donald Finlay, Mr Doyle said: "We were just normal brother and sister."
But, he said, "she was going her way and I was going mine".
The court was told that in a statement to police, John Doyle said: "When Elaine died we weren't really talking to each other."
The statement continued: "To be frank we would disrespect each other.
"We would get on each others' nerves and I would see her as my annoying little sister."
Mr Doyle insisted that should not be taken literally.
"She was annoying in a cute way," he told the trial.
Accused
John Docherty, now of Hunters' Quay Holiday Village, Dunoon, denies murder and claims that at the time he is alleged to have stripped and strangled 16-year-old jeweller's assistant Elaine he was with his parents - who are no longer alive - at their home in Anne Street, Greenock.
The charge alleges that on 2 June 1986 in a lane near Elaine Doyle's home in Ardgowan Street, Greenock, he seized her by the hair, struck her on the head and either removed or compelled her to remove her clothing.
The charge goes on to allege that Mr Docherty forced Elaine to the ground, pushed her face into the ground, sat or knelt on the teenager then placed a ligature round her neck and strangled her.
Mr Docherty also denies stealing a handbag from Ardgowan Street on the same date.
He further denies a charge of attacking another woman, Linda Hargie, on various occasions between 1990 and 1995 at an address in Anne Street, Greenock, by seizing her and pushing her and punching her on the head.
The trial, which is being heard before Lord Stewart, continues.