Commonwealth Games medals are unveiled on 100-day countdown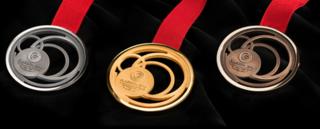 The medals that athletes will compete for at the Commonwealth Games in Glasgow have been unveiled.
The Gold, Silver and Bronze medals were displayed at an event at Kelvingrove Art Gallery to mark 100 days to the Games' opening ceremony on 23 July.
Organisers revealed that more than 1,380 medals would be awarded at 261 medal ceremonies during the Games.
Each of the medals weighs 100g and is being hand-made by expert jewellers at the Glasgow School of Art.
The medals were designed by Glasgow-based artist and lecturer Jonathan Boyd.
The artist uses digital technologies in his work as well as hand-crafted skills and traditional metalworking techniques.
Mr Boyd, who lectures at the Glasgow School of Art, said he had tried to combine Glasgow's industrial heritage as well as a sense of the athlete's skill into the final design.
He said: "It was trying to do something that reflected Glasgow but also had this feeling of movement, it's what the athletes all do."
With almost 1,400 medals needed by the start of the Games, Mr Boyd said that the process of getting them ready presented a real challenge to himself and his team of 11 specialist jeweller-makers.
He said: "There's blood, sweat and tears in those medals, just like the way athletes train and go through hell and back to get there, we've gone through the same."
As well as the medals being unveiled to the public, the event also recreated the medal procession ceremony to be used in the Games, showing the ceremonial outfits to be worn by the male and female medal bearers.
The outfits were designed by fashion designer Kerry Nixon.
She said: "I'm delighted to be a part of the Glasgow 2014 Commonwealth Games. It's a huge honour for me to design and now showcase the Medal- Bearer's dress and represent my hometown of Glasgow at such an exciting time for the city."
About 6,000 athletes and officials will attend the Games, which will kick off with the opening ceremony at Celtic Park on 23 July and run until 3 August.
Commonwealth organisers had cancel plans to blow-up Glasgow's Red Row flats as part of the opening ceremony after a public backlash but still insisted that the Games were on track.
Glasgow 2014 chairman Lord Smith of Kelvin said: "We are entering the home straight now and these last 100 days are our opportunity to do the final work necessary to ensure that we deliver an outstanding Games for Glasgow, Scotland and the Commonwealth."