Chalk art work heralds Glasgow 2014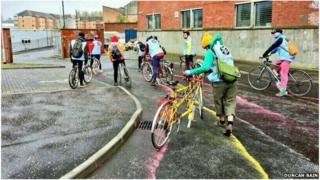 It has been described as "a citywide ribbon of colour".
Glasgow Slow Down is a temporary public artwork being performed on Sunday to mark the run up to the Commonwealth Games.
About 100 cyclists have been making a large chalk drawing on the streets of Glasgow as they converged from various points in the city on George Square.
"It is just thin lines of chalk," says artist Jacqueline Donachie. "It doesn't compete with the road markings, they're much broader and solid, the chalk is much more ephemeral than that"
When I met her, she was at the bike shelters outside the velodrome in Glasgow, drawing breath with her bike propped up against a rack. She has been dotting around the city making sure everything was set for Sunday.
"There's this kind of venn diagram that I have in my head of the cycling community and the art community and there is this cross over between these two communities," she explains.
"I probably see this project sitting in that cross over. It's not wholly lycra and it's not wholly art world but it sits kind of in the middle."
Sedate pace
For her, part of the beauty of an event like this is the chalk lines and where they go; up hills, round corners, past lovely buildings and all at a sedate pace.
"I'm not so much of a cyclist and I'm not particularly militant about cycling," she says, "but the amount of cycling I've done now to sort out this project you really see the problems."
Groups of cyclists started off from different points at the edge of Glasgow and attached to their bike is an ingenious device made up mainly of a plastic bottle. It dispenses a line of powdered, coloured chalk.
More cyclists, also equipped with chalk, joined at other muster points. For it to work they have to cycle slowly.
People are taking part in Sunday's event for various different reasons. Some are keen cyclists, others see it more from the point of view of an artist.
Susan McNaughton is one of those leaving from the velodrome for Glasgow city centre.
Part of her duties is to make sure everyone is wearing high visibility vests and that their chalk dispensers are attached.
Visible spectacle
She works on a project which promotes cycling and that is part of the attraction for her.
"We're not just creating a visible spectacle while we cycle," she explains, "but we're also leaving a coloured line which shows where we've been, so it shows almost the desire lines of cyclists and it will remind motorists that cyclists could be there on the roads and it will remind walkers that they could be on a bike and you have the option to cycle along of the roads we go along."
Versions of this work have been previously presented in Huntly in Aberdeenshire in 2009 and in Melbourne, Australia last year. Each event is different.
"It's a lot about the experience that people have on the day," says Jacqueline Donachie, "and their memory of it and their photographs of it and the photographs that other people take of it.
"I kind of like that, I quite like the way that it infiltrates in different ways, that it isn't a big gargantuan thing, that sits unmoveable.
"What we leave behind is this line of chalk that starts at the outer edge of the city and meanders into the city centre and will be gone the next time it rains after the event."