Burrell Collection to show rare 600-year-old Ming vase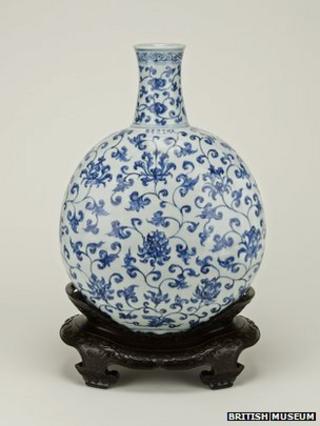 A 600-year-old Ming vase from the British Museum is to begin a UK tour at Glasgow's Burrell Collection.
The cobalt blue and white flask, with lotus scroll decoration, is just over 50cm and is the largest Ming porcelain of its kind at the British Museum.
It will be on public display in Glasgow from 12 April to 6 July.
The Burrell Collection has a large number of Chinese artworks among more than 8,000 items, which also include medieval, French and Islamic pieces.
After the Burrell leg of its UK, the Ming vase will be on show at Weston Park Museum, Sheffield; Bristol Museum and Art Gallery; and the Willis Museum, Hampshire.
The flask is inscribed with the reign mark of the Xuande emperor, who reigned between 1426-35.
The British Museum says "the Xuande emperor established a golden age in China during which the imperial and regional courts were centres of culture, military power and contacts with the wider world".
It says "the vase is typical of the skill and quality of imperial production in China during the early 1400s".