Debt recovery firm to create 400 new jobs in Kilmarnock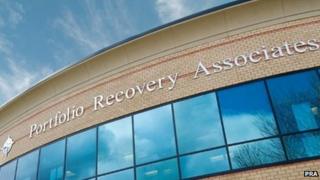 A US-owned debt recovery firm is aiming to create up to 400 new jobs at its UK office in East Ayrshire.
Portfolio Recovery Associates UK (PRA UK) said it hoped to more than double its existing 300 staff in Kilmarnock over the next three years.
PRA chairman, president and chief executive Steve Fredrickson said the new posts would be "in additional call centre jobs and other roles".
The expansion is being supported by a £1.2m Scottish government grant.
The Regional Selective Assistance (RSA) grant is delivered through the economic development agency, Scottish Enterprise.
'Fantastic news'
Mr Fredrickson said: "Portfolio Recovery Associates sees opportunity for business growth in the UK resulting in additional call centre jobs and other roles.
"The support of the RSA and East Ayrshire Council will help enable this growth."
The jobs were confirmed by First Minister Alex Salmond, who is visiting the US as part of his 2014 Scotland Week programme.
"PRA UK is a well-known employer in Kilmarnock and the announcement of hundreds of new jobs is fantastic news for the area," Mr Salmond said.
"I'm looking forward to meeting senior representatives of the company later today in New York as they confirm plans to create these new jobs for Kilmarnock."