Five women treated after 'vapour' attack in Glasgow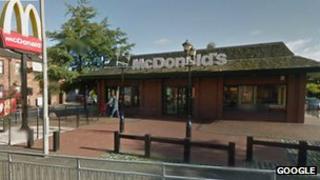 Five women were treated in hospital after being sprayed with vapour from a CS gas-type canister outside a restaurant in Glasgow.
The women, who were aged between 19 and 51 years, suffered irritation to their eyes and skin following the attack outside McDonald's restaurant on Maryhill Road.
They were taken to Western Infirmary for treatment and later released.
Police said a total of eight people were sprayed in the attack.
The incident occurred at about 02:10 on Saturday.
Eight friends - seven women and a man - went to the McDonald's restaurant to eat after a night out, when one of the party, a 19-year-old woman, was approached by a man.
He became abusive towards her and then sprayed vapour at her face.
Police said he then turned on her friends and they too were assaulted using the same substance.
Witness appeal
The suspect then ran off towards Shakespeare Street, Maryhill.
He was described as white, 25 to 35 years of age, of slim build and with short shaven brown hair.
He was between 5ft 5in and 5ft 7in and had scars on his face.
The most noticeable scar ran from ear to cheek on the left side of his face.
The suspect was wearing dark denims, a grey cardigan or zipper, a black body warmer and black leather gloves.
Det Sgt Lesley-Ann McGee appealed for information.
She said: "The friends had all been out in a local nightclub when the suspect, who was also in the club, made advances towards one of the girls.
"She wasn't interested and he became abusive and threatening toward her before leaving the premises.
"A while later the party were heading to the nearby restaurant where the attack took place just outside.
"Thankfully, no one was seriously injured, however, this was a very frightening thing to happen to those involved.
"At this time we are not aware if the man followed the group to the restaurant or spotted them there on passing."
She added: "Officers are checking CCTV from the club, the restaurant and the surrounding area and there will be additional officers on patrol over the weekend.