Family plea over missing medical student Manvir Singh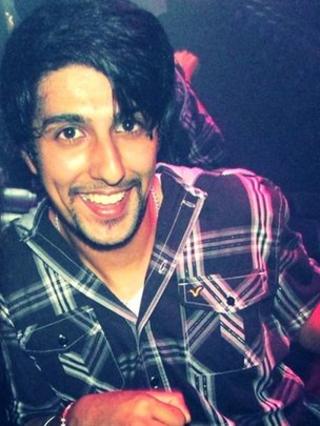 The parents of a young medical student, missing from his home in East Dunbartonshire for more than two weeks, have appealed for help to find him.
Manvir Singh, from Bishopbriggs, was seen by a friend in Glasgow city centre at about 16:45 on Wednesday 19 March.
Police said their inquiries had now revealed the 21-year-old got on a bus and was seen in St Andrews in Fife later that day at about 21:00.
His father, Harpal, said: "All we want to know is that he is all right."
Police Scotland said Mr Singh's disappearance was "out of character" and appealed for anyone with information about his whereabouts to contact them.
Harpal Singh said: "Manvir is a much-loved son and is known as Sonu to family and friends.
"We haven't heard from him or seen him for more than two weeks and we are very worried about him.
"We know that Sonu got on a bus in Glasgow and travelled to St Andrews, but we don't know what happened to him after he got off the bus in St Andrews.
"We are keeping in touch with his friends in the hope that they may hear something from him - all we want to know is that he is all right.
He added: "If anyone has seen Sonu or knows where he may be, please do get in touch with the police so that we know he is safe and well."
The student's mother Kirandeep Singh said: "Sonu, we want you to know that you are not in any trouble and that everyone is worried about you.
Supt Thom McLoughlin said: "Despite extensive inquiries we have still not traced Manvir.
"We are currently investigating the latest sighting of him in St Andrews and continue to actively seek new lines of inquiry.
"Manvir is a young, intelligent, active man and there is nothing in his background to indicate why he would not maintain contact with his family. As time goes by we are all becoming increasingly concerned for his safety.
He added: "The lack of contact has been extremely distressing for his family and I would urge anyone who recognises his description, or has any information regarding his whereabouts, to contact us."