Commonwealth Games: Airspace restrictions announced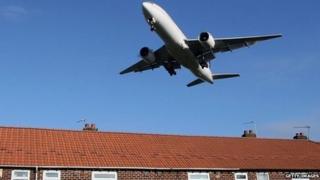 Aircraft flying over parts of Scotland will be subject to restrictions during the Commonwealth Games in Glasgow.
The UK government said six regulations would be in effect from 13 July to 6 August for security reasons.
Two will cover the Glasgow area where there will be a core prohibited zone over venues and the athletes' village, surrounded by a larger restricted zone.
There will be four smaller restrictions protecting specific events elsewhere in the country.
These will cover the cycling time trials at Muirhead, the triathlon events at Strathclyde Country Park, the diving competition at the Royal Commonwealth Pool in Edinburgh and the shooting competition at the Barry Buddon range near Dundee.
'Protected airspace'
Transport Minister Robert Goodwill said: "All the regulations have been designed to allow aviation business to continue as usual so far as possible, while ensuring the safety and security of the Commonwealth Games.
"They also provide specific exemptions for aircraft such as those operated by the police or emergency medical services to enter the protected airspace.
"We do not expect that any airports within the restricted airspace will need to close as a result of the planned measures, and there should be no impact on scheduled air services that will be vital to competitors, officials and spectators."
He went on: "The government's paramount objective is the delivery of a safe and secure 2014 Commonwealth Games for all, and the airspace restrictions will help to provide this while minimising the impact on the aviation community, so far as possible.
"However, the government reserves the right to implement additional airspace security measures should the need arise."