Commonwealth Games: Email error on Queen's Baton bearers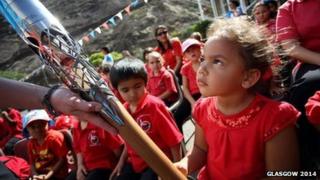 Blank emails have been sent to some people waiting to find out whether they have been chosen to carry the Queen's Baton before the Commonwealth Games.
Up to 4,000 community baton bearers were to find out on Monday if they will carry the Baton through Scotland.
Organiser Glasgow 2014 said it was working to resolve the issue.
It later said the problem had been resolved and everyone should find it out if they had been chosen "by the end of the evening".
The Queen's Baton Relay has been the Commonwealth Games' curtain raiser since 1958.
The baton is visiting 70 Commonwealth nations and territories ahead of the games.
People from all 32 Scottish local authority areas will join the relay which is covering more than 400 communities over 40 days.
Up to 4,000 "community champions" will take part in a tour of Scotland throughout June and July.
For the first time in the history of the relay, all 545 secondary schools in Scotland were invited to nominate a pupil to participate as a baton bearer.
Community baton bearers have been selected by independent panels, who have considered people's achievements such as their mentoring of young people, contributions to community and youth sport, and work in volunteering and community support.
On 23 July, a message from the Queen which was placed inside the baton will be read at the event's opening ceremony at Celtic Park in Glasgow.
Commonwealth Games Scotland Chairman Michael Cavanagh said: "The athletes striving to be selected for Team Scotland will be truly inspired by the determination, courage and selflessness shown by all the selected baton bearers in different walks of Scottish life, and their commitment to helping others.
"It is fantastic that they are being recognised and rewarded with a coveted place in Scotland's leg of the Queen's Baton Relay and we thank them for their enthusiasm and support.
"We are confident the Queen's Baton Relay will get the whole country behind the Games and Team Scotland in particular, as we collectively make our final journey to Glasgow 2014."