Major operation: Building Glasgow's new hospital campus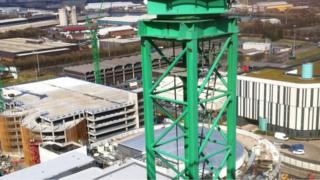 It is the biggest building site in Scotland, and by next year it will be the largest hospital in the country. So how do the NHS and a construction giant work together to deliver an £800m project on time and on budget?
On a clear day, the view from the roof of Glasgow's new hospital is stunning. At 14 stories high this building towers above the skyline, south of the River Clyde. But what draws your eye is not the cityscape, or the Campsie Fells beyond. Instead it is the structure which crowns this building - a gigantic helipad.
"It's designed for a Sea-King size of rescue helicopter" says NHS Greater Glasgow and Clyde's project director, David Loudon.
"When it lands here, it's met by a team of clinical staff to take the patient in their trolley down this ramp into the building."
But is it not quite a rare thing, I ask, to put in a helipad when you're building a hospital?
"Well yes," he replies. "But that's all part of the plan. There's lots of consultation with the specialists, including armed forces and helicopter operators. And there are standard specifications for rooftop helicopters in a hospital setting. So it's all compliant with the design".
That matter-of fact answer sums up the can-do approach much in evidence on the South Glasgow Hospitals Campus. Construction of this enormous health centre began in early 2011. Now, less than a year before it's ready, the building's bristling with unusual features, on a scale which may surprise the patients who use it.
A few floors down, I'm shown round one of the 20 operating theatres in the Adult Hospital. The walls are already coated with anti-bacterial paint, designed to help reduce the chance of hospital-acquired infection. Lights and equipment hang in place, ready to be switched on.
By next year, this operating theatre is likely to be in use for up to 12 hours a day, and longer if needed.
'Well-loved'
But, as David Loudon explains, the hospital's large size means it will be able to sustain a large workforce of surgeons and specialist nursing staff.
For this hospital, it seems, size is an advantage. The Adult Hospital has more than 1,100 beds, almost all in single rooms, and the adjoining Children's Hospital has 250 more.
Many opposed the plans for this huge complex.
It is designed to replace and improve upon several well-known, and well-loved, Glasgow clinics, including Yorkhill Children's Hospital and the Queen Mother's Maternity Hospital.
The health service argued that replacing those ageing buildings with a state of the art facility was a better, and cheaper option than a "piece-meal" upgrade.
Sceptical campaigners fought hard to retain the existing services. But after a series of heated public meetings, and debate in the Scottish Parliament, the project was given the go-ahead.
But the scale of this hospital has raised concerns. In recent years, some of Scotland's big public building projects have been more than disappointing, with lengthy delays and massive cost over-runs. The Edinburgh Trams Project and the Scottish Parliament building have forced the public sector to learn some hard lessons.
'You delay, you pay'
So how is this project faring?
There were three strong bids to build the hospital - but the winner was Brookfield Multiplex, an Australian firm with global reach and a track record of building all sorts of structures - including skyscrapers and shopping centres. Among it's most recent work was the new Wembley Stadium.
The hospital's main atrium - high, wide and bright, with a clear roof - so different from a typical hospital - seems inspired by the other buildings in its portfolio.
It seems the partnership between the NHS and Brookfield Multiplex, is key to delivering the project on time, on specification, and on budget. And the challenges were addressed head-on, long before any concrete was poured, when companies were first invited to bid for the work. The principle applied here was this: "you delay, you pay".
"We wanted to build into the tendering process the whole transfer of risk, and making sure the construction industry still accepted an element of risk, and an element of partnership" says NHS Greater Glasgow and Clyde's chief executive Robert Calderwood.
So, I ask, if there's a cost over-run, who pays the price?
"Well it's on a scale set of charges. Brookfield require to bring the building in on time, and at a target price. If they bring the building in under price, there is a profit-sharing model, whereby Brookfield are rewarded on a percentage basis - it's a sliding scale.
"It's exactly the opposite in over-runs. If it goes £1 over, Brookfield pay 80p in the pound. And then if it goes above a certain amount over-run, let's call it £10, then 100% of the cost is borne by Brookfield. "
'Really gone for it'
Brookfield's project director at the new hospital, Mike Sharples agrees that partnership is the key to success.
"We have a fantastic relationship with the NHS. They're a great team to work with. We know what they want. And they get what we do, and what we're trying to do. And that makes life very easy for us."
Alongside the tough contractual terms on price and time-scale, the NHS required the company to deliver sub-contracts for local firms employing local staff.
The hospital build is scheduled to last 4 years - so local firms who have won a contract here have been given that rare thing these days - long-term stability.
"We came here with a plan, which we set out to the NHS board when we submitted our tender," says the project director.
"The plan was to put into place the appointment of 250 new entrants, into construction and 88 apprentices, and we've gone well past that. And we've engaged local companies - sub-letting around £160m worth of work to local businesses, which is around 40% of the available work.
"It's been inspiring to see some of the people coming here from the local Govan school. They've really gone for it, they've thrown everything at it to their apprenticeships, and it's been brilliant."
The construction effort continues apace, with 1,400 workers giving this campus the feel of a small village. By next year the hospital will be complete, and then patients will be able to judge it for themselves.
You can hear more on this big build project on the Business Scotland programme on the BBCiplayer.