Allison McGarrigle murderers fail in second appeal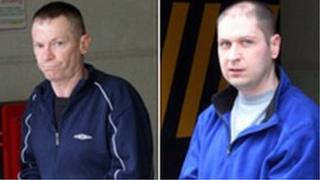 Two paedophiles have failed in a second legal bid to overturn their convictions for murdering a woman who planned to report them for abusing a boy.
Charles O'Neill, 51, and 37-year-old William Lauchlan killed Allison McGarrigle in Largs in 1997.
They dumped the 39-year-old's body at sea. Her remains have never been found.
Both men claimed the judge in their trial had introduced a "prejudicial question" but appeal judges rejected this and upheld their convictions.
At their original trial, a police officer describing efforts to trace Mrs McGarrigle after she went missing in 1998 said - in answer to a question from judge Lord Pentland - that he thought she was dead.
'Proof of life'
Lawyers for the two men claimed the question, which prosecutor Dorothy Bain QC had "pointedly" not asked, made the trial unfair.
They said the police officer was not an expert witness and should not have been asked to give an opinion on the "proof of life" report.
Defence QC Gordon Jackson, for Lauchlan, told appeal judges: "One feature of this case was whether the lady was dead at all."
Mr Jackson said part of the defence case was that Mrs McGarrigle was still alive.
"It was a hugely prejudicial question which usurped the jury function and should not have been allowed at all," he said.
Mr Jackson also argued that prosecutors had relied on supposed comments Lachlan had made to others about disposing of Mrs McGarrigle's body to convict him of murder.
Defence claims
He said that in Scots law there was no such thing as "an accessory after the fact" and that even if Lachlan had a hand in dumping the body, that did not make him a murderer.
Mr Jackson claimed Lord Pentland had not explained that issue properly to the jury.
Solicitor advocate John Carroll, for O'Neill, also claimed that the police search for Mrs McGarrigle had not been thorough enough.
At the Court of Criminal Appeal in Edinburgh, Lady Paton, sitting with Lady Clark and Lord Philip, rejected the defence arguments.
They also threw out a claim that the trial judge Lord Pentland had misdirected the jury on the question of being "an accessory after the fact" and helping to dump Mrs McGarrigle's body at sea.
Mrs McGarrigle met O'Neill and Lauchlan in 1994 after moving to Rothesay, Isle of Bute, following a split from her husband Robert.
She was introduced to them by the boy they went on to groom and abuse.
Murderer's boast
During their trial in 2010 it emerged that she lived in fear of the men and had threatened to tell police about their abuse of the child.
She was reported missing by her husband in 1998 and legally declared dead seven years later.
The trial heard of a violent row in June 1997 when Lauchlan pushed Mrs McGarrigle as she yelled: "I know what you are up to and I will make sure I see what is coming to you."
The trial heard she was never seen again and O'Neill later boasted: "She is feeding the fishes."
Lauchlan is serving a minimum sentence of 26 years and O'Neill a minimum sentence of 30 years for her murder.
After the trial in 2010 it emerged that they were predatory paedophiles with convictions for sex assault and rape of children.
A further hearing is expected to challenge the length of their minimum sentences.