West Dunbartonshire Council votes to leave Cosla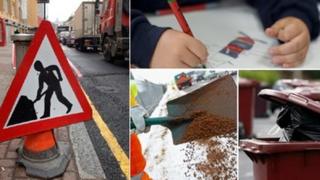 An eighth council has confirmed it is planning to leave the local government organisation Cosla.
West Dunbartonshire Council took the decision at a special meeting and will give the organisation 12 month's notice of its intention to quit.
Several other large Labour-run councils - many in the west of Scotland - also intend to leave.
A ninth Labour-run authority - North Lanarkshire Council - voted on Thursday to stay in Cosla.
One of West Dunbartonshire's concerns is that it could have to stump up a higher share of Coals's costs in the future if it has fewer members.
Cost issue
A spokesman said: "The view of the leader was clear that this was not an issue of principle against Cosla.
"We were simply giving notice to leave so we had the option to leave if later in this year detailed information emerged that suggested there would be an increased financial cost of staying in a reduced Cosla.
"A decision on our future membership of Cosla will be taken in around six months once a report is prepared."
The issue over Cosla membership for many councils centres on a dispute over where power should lie within the organisation.
It was triggered by a disagreement over how government cash should be spread between councils.
A number of large councils - including Glasgow, Aberdeen, Renfrewshire and South Lanarkshire - have given notice of their intention to leave.
This has led some others to discuss membership too.
Councillor Jim Smith, depute leader of North Lanarkshire Council, said: "Given the decisions of a number of other councils it was only proper that we had a discussion about our continuing membership of Cosla.
"We believe that Cosla is the best mechanism to discuss and protect our interests and we feel that being part of that collective of local authorities is important.
"That is North Lanarkshire's position but it is for other councils to determine what's right for them.
"In addition, we had some concern about our potential liabilities should we withdraw from Cosla.
"We look forward to continuing to participate in the wider agenda in these challenging times for local government in Scotland."