Glasgow 2014: Margaret Jaconelli's story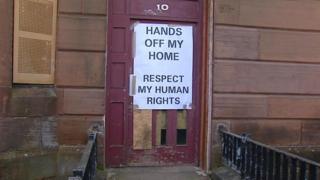 With just four months to go until Glasgow hosts the 2014 Commonwealth Games, BBC Scotland has been looking at how it has impacted on the people who live beside the new venues, the homes and businesses that go alongside regeneration projects.
Just walking down Springfield Road towards what once was Ardenlea Street in Dalmarnock brings back painful memories for Margaret Jaconelli.
"I'll never forget it for the rest of my life, I have nightmares and visions about it, it's unbelievable," she said.
Looking through a hole in the wooden hoarding of what is now the Athletes Village - she can see where her house once stood.
Exactly three years ago that she was forcefully evicted from her flat - after a compulsory purchase order was placed on it by Glasgow City Council. That was after an eight-year battle to stay.
She stood her ground long after other neighbours were moved out in 2002.
"Twenty minutes to four in the morning the village gates opened and all the police came," she recalls.
"My son, my nephews, my cousins, just family members were there. Then they started to come through, banging at the windows. That's when they got through to us."
Margaret's red sandstone flat is now long gone.
Instead, with the Commonwealth Games on the horizon a new village has sprung up, winding itself around the river Clyde - one of the biggest developments in Europe.
First it will be home to the Commonwealth athletes - 6,500 competitors and officials will take residence in the summer.
But by December it will be transformed into 700 new homes.
Later a community centre, and care home will come, plus the council has promised shops and services.
But for people like Margaret the question is: at what cost?
Neil Gray, a researcher at Glasgow University who studies urban regeneration, told BBC Scotland: "We estimate about 3,000 people were living in social housing in this area, in the Dalmarnock area where the Athlete's Games village is, and there's only 300 homes for social rent out of a total 700.
"It's quite clear to us that the new village and the Clyde is actually going to be for incoming people and the local people won't be able to access those homes."
Compensation
Margaret Jaconelli and her husband now live with their son.
She did receive compensation of more than £80,000 for the loss of her home but she says it has been spent on legal fees because of the battle to keep hold of her tenement flat.
She says she would have been happy if she had been offered a suitable alternative but cannot afford to buy a house in the new village.
Glasgow City Council said: "A Compulsory Purchase Order (CPO) is only ever used when agreement cannot be reached with an owner.
"Agreements were reached with the other owners in this case.
"Margaret Jaconelli was offered several properties in the city, some of which were reasonably close to the Ardenlea Street property."
For Margaret Jaconelli, regeneration means friends and neighbours have gone and her community has disappeared.
She and her husband Jack bought the flat that they hoped would be their family home 37 years ago, the year after they married.
She says: "I'm not against change, I believe in change for the city but I believe there is a way to do it.
"It shouldn't be the wee ordinary people that get affected."