Glasgow 2014: Concerns raised over Games transport plan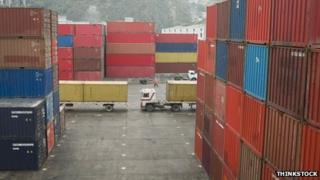 Organisers of the Commonwealth Games in Glasgow have been criticised for a lack of information about transport planning for the event.
The Freight Transport Association (FTA) represents businesses, delivery companies and supermarkets chains.
It has said there could be major consequences if a Games Route Network is not outlined urgently.
Glasgow 2014 said it had met with operators and would provide as much information as possible at every stage.
The Commonwealth Games will be staged in Glasgow over 11 days in July and August.
The opening ceremony takes place at Celtic Park on 23 July.
The logistics of getting thousands of athletes and spectators around the city during Games time will see special transport lanes put in place, temporary road closures and diversions.
Essential supplies
The FTA said the information about travel disruption was well behind where it should be at this stage.
The freight organisation said if the issue was not addressed urgently it would have major consequences when it came to delivering essential food, drink and supplies to Games venues, and also to residents and businesses in the city.
The FTA has called for full details of transport plans to be made available before its annual conference on 13 May, when it said delegates would expect answers.
Chris MacRae, the FTA's head of policy for Scotland, said: "It is vital to prepare well ahead.
"At the equivalent stage ahead of the Olympics in 2012, the Games Route Network (GRN) was known in detail and the Freight Working Group had met several times.
"For Glasgow the GRN is still only a map without any published detail on actual restrictions, times or postcodes released and the Freight Working Group only met for the first time on 11 March. We also still have no information on the venue security restrictions, which were becoming known by this stage for the Olympics."
Glasgow 2104 said it was working "positively and collaboratively" with the city council, police, the Chamber of Commerce, Transport Scotland and other partners to ensure residents and businesses were "informed, prepared and ready for the Games".
A spokesman added: "We will be providing as much information as we can at every stage of the process to aid businesses in their planning to ensure a successful Games for everyone.
"An information event for key business groups and representatives stakeholders, including a number of freight and logistics organisations, took place in February. The Freight Transport Association, along with the Road Haulage Association were in attendance.
"Glasgow 2014 holds regular discussions with freight organisations and a specific freight forum has been established in association with the FTA, which was held earlier this month. We are also attending the FTA annual meeting in May and will work closely with them from now until the Games to help with their planning."