Emergency leak work for new Burrell Collection show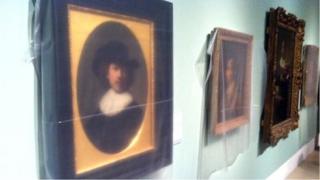 Glasgow's Burrell Collection has had to install protective covering in the roof space at a new exhibition, before it has even opened to the public.
Curators have spotted what they described as a very small leak.
The exhibition, featuring 43 paintings including works by Rembrandt, Whistler and Degas, is the last before the museum is refurbished in 2016.
All measures are said to be precautionary and the exhibition is due to open on Friday as planned.
A spokesman for Glasgow Life said: "We can confirm we have found a small leak in the exhibition space, literally one of two drops of water, but as a precautionary measure we have installed a protective cover in the roof space.
"We will also cover selected paintings in protective plastic, but only when the public are not in the building.
"Again, this is only a precaution but it is indicative of the pressing need for refurbishment of the Burrell Collection."