Train evacuation in Glasgow after 'false fire alarm'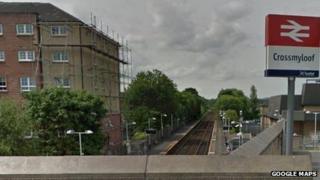 A false fire alarm has been blamed for the evacuation of a passenger train near Crossmyloof station in Glasgow.
The alarm was triggered on the four-carriage train, that was travelling between East Kilbride and Glasgow Central, at about 08:15 on Thursday.
Fire crews attended and passengers were taken off the train.
ScotRail said a false alarm in the fire detection system led to water being sprayed onto the engine, causing steam to be emitted from under the carriage.
Incident commander Stephen Carson, from the Scottish Fire and Rescue Service, said: "Firefighters ensured the affected engine was isolated and that passengers were safely evacuated from the train to the nearby station.
"We were working closely with Network Rail who placed a stoppage on the line to prevent other trains approaching.
"First ScotRail engineers checked the train and it was removed to workshops."