Netting helps limit A83 landslip debris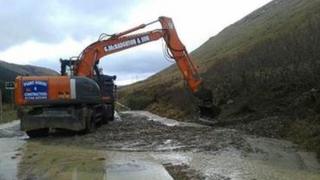 Transport Minister Keith Brown has confirmed that netting along the A83 has helped to prevent debris from landslips reaching the road.
He was speaking at a meeting of the A83 taskforce, set up to manage the progress of landslide mitigation measures along the route.
The meeting was due to be held in the summer but was brought forward due to the number of recent incidents.
Landslides have closed the road several times since the start of the year.
Much of the taskforce's focus is on the work being carried out to prevent further landslips at the Rest and Be Thankful.
The group, which is chaired by Mr Brown, discussed the continuing progress of the work being carried out as well as other minor improvement schemes on the A83.
While much of the recent work has concentrated on the Rest and Be Thankful area, as this was most at risk, the group heard that Transport Scotland had already undertaken investigations at other areas of high landslide risk along the route.
Recommendations from these studies will inform the future programme of works which will target the highest priority areas identified at each site.
Taskforce members also had the opportunity to discuss the recent use of the local diversion route, The Old Military Road.
This was used for the first time at the beginning of March when there was a slip at the Rest and Be Thankful.
Mr Brown said: "This meeting was originally planned to go ahead in the summer but I thought it was important that we let communities in the area know now that we are committed to the programme of work that is managing and reducing the risk of landslides along the A83 trunk road.
"We cannot prevent landslides from occurring, but we can help manage and reduce the impact and disruption caused to the public and local businesses using this vital route.
"As our work around the Rest and Be Thankful nears completion, the netting installed in this area has already prevented debris from the hillside reaching the road, we continue to look forward."
He added: "Investigations at other known high landslide risk areas on the A83 at Cairndow, GlenKinglas and Loch Shira are ongoing and we are looking at options to provide mitigation of a similar level to the Rest and Be Thankful at these locations.
"I look forward to meeting the group again in June."