Christopher O'Shea jailed for life for Craig McSporran murder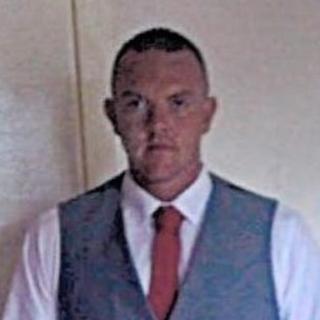 A man has been jailed for life for murder and attempted murder following a stabbing attack on two other men.
Christopher O'Shea, 26, was convicted of killing Craig McSporran, 31, in Linwood, Renfrewshire, on 8 July 2013.
He was also convicted of trying to murder the victim's friend, 32-year-old Derek MacNeil, in the knife attack.
O'Shea was jailed for a minimum of 18 years for the murder. He will serve a concurrent sentence of 10 years for the attempted murder of Mr MacNeil.
O'Shea, from Linwood, denied carrying out the attacks in the town's Bridge Street, but was convicted following a trial at the High Court in Edinburgh.
'Savage' blow
Judge Lord Stewart told O'Shea that in returning guilty verdicts the jury at his trial "must have rejected your defence of alibi".
The judge told him: "I am bound by law to impose a sentence of life imprisonment for the murder."
Lord Stewart said that the fatal knife blow inflicted by O'Shea on Mr McSporran was "a particularly savage one".
The court heard that unemployed O'Shea, a father of two young children, continued to deny his guilt.
Mr McSporran, of Linwood, and his friend had gone out for a drink at the Heritage pub in Linwood after Andy Murray's Wimbledon victory.
The first police officer to arrive on the scene after the attack, Sgt Jacqui Melvin, established that he had been stabbed in the stomach and said: "I could see his body organs."
The court was told that O'Shea had been at home with his partner when someone threw a brick through a window and he ran out into the street.
'Bleak' background
In the wake of the killing he cycled to his mother's house before booking a taxi to take him back home.
The taxi driver said his passenger seemed "edgy" and "nervous".
Lord Stewart told O'Shea that a background report on him prepared for the court made for "fairly bleak reading".
O'Shea, who has previous convictions for violence and one for possessing a knife, was expelled from two primary schools in childhood and had his secondary education disrupted by exclusions from school.
The judge said: "You left school without qualifications and since leaving school you have not had a job."
"Until you were remanded in custody you had a virtually daily cannabis habit," he said.
Following the sentencing, Jennifer Harrower, procurator fiscal for homicides and serious crime in the west of Scotland, said: "Christopher O'Shea chose to arm himself and chase after his victims with the purpose of doing them serious harm. The consequences, as illustrated by this case, were catastrophic for all concerned.
"There is simply no excuse for taking a knife into the street."