Ex-policeman James Ainsworth admits child sex abuse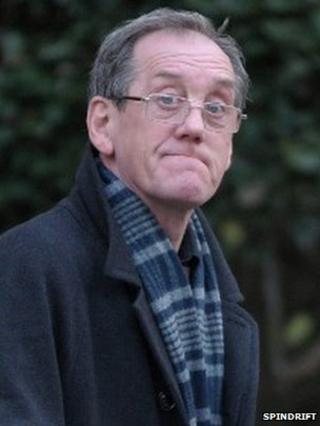 A former police officer has admitted sexually abusing four girls and two boys over a 25-year period.
James Ainsworth, 62, admitted seven charges of sex abuse and one of rape against the children in Ayrshire and Dumfriesshire between 1965 and 1990.
Sentence on Ainsworth was deferred at the High Court in Glasgow and he was remanded in custody.
Ainsworth's trial was halted last year after he was attacked and seriously injured outside the court.
A 31-year-old man was later arrested and charged with attempted murder over the incident.
The court heard that Ainsworth's predatory sexual behaviour began when he was just 14.
Victim threats
He started touching an eight-year-old girl and progressed to raping her once, when she was aged between eight and nine.
The court heard that Ainsworth also sexually abused three other girls - one of them in a police house in Ayrshire where he was stationed.
He later told the girl: "No-one will believe you. I am a police officer and something bad will happen to your mum."
The girl was said to have been so traumatised by the abuse that she cleaned her teeth with powdered Vim.
The court also heard that one of Ainsworth's male victims was sexually abused from the age of five.
Ainsworth would pretend to be Spiderman before sexually abusing the boy and telling him: "That's what the big boys do."
A girl who was sexually abused as she took a shower was told: "You will be dragged through the courts. I am a police officer and it will be my word against yours."
Following his guilty pleas, temporary judge Norman Ritchie QC placed Ainsworth on the sex offenders' register.