Twelve people escape Prestwick house fire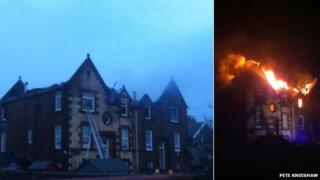 Two people have been rescued and 10 others led to safety after fire swept through three homes in a detached property in South Ayrshire.
Fire crews were called to the three-storey building in Marina Road, Prestwick, at about 02:00 on Friday.
Two people were rescued by ladder and treated for smoke inhalation. Children were among those inside the building who were led to safety.
A total of 37 firefighters and five appliances were deployed to the blaze.
'Trapped residents'
Watch Commander John Kerr said: "On arriving at the scene I was faced with a well-developed fire which had spread to the roof space of the three-storey detached house which had been sub-divided into three separate homes.
"I immediately tasked firefighters with gaining access to the property to fight the fire internally. At the same time other firefighters were carrying out rescues from the upper floors using ladders, to get the trapped residents to safety."
Mr Kerr said he called in extra crews due to the intensity of the fire and because the roof was starting to collapse.
The cause of the fire is being investigated.
Have you taken any pictures - still or moving - of this fire? Send them to the BBC Scotland news website at newsonlinescotland@bbc.co.uk
Please ensure when filming or photographing an incident that you make your safety and the safety of others a priority.
If you submit an image, you do so in accordance with the BBC's Terms and Conditions.