Cosla president highlights organisation's achievements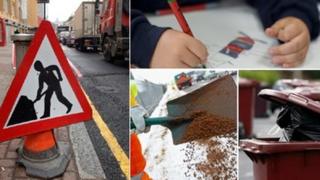 The embattled Scottish local government organisation Cosla is fighting back against claims it's become ineffective.
Seven councils are threatening to leave and some claim the organisation can do more to stand up for local government.
But in a speech, Cosla's president David O'Neill will stress the organisation's achievements
He'll claim the group has helped earn local government a better financial deal than other parts of the public sector.
'Simmering tensions'
Cosla represents the collective interests of Scotland's 32 local authorities.
But a complicated dispute over where power should lie within the organisation threatens to cause a split.
Simmering tensions boiled over in a disagreement over how government money should be spread between councils.
Seven councils - including Glasgow, Aberdeen, Renfrewshire and South Lanarkshire - have all said they may leave next year.
Critics claim Cosla finds it hard to campaign on controversial and politically divisive issues because it needs to find a position all its members can agree on.
In a speech at the organisation's annual conference, president David O'Neill - a former Labour council leader - will say: "When I hear any council saying Cosla did this to us or Cosla caused this to happen, I am struck by the level of misunderstanding that this statement suggests.
"All Cosla's decisions, whether they are split by voting or not, are corporate decisions owned by all of the 32 councils, not just by some.
"All of Cosla's successes are owned by all 32 councils, not just by some, and all Cosla's failures are owned by all 32, not just by some."
'Mature discussion'
Mr O'Neill will add: "It seems to me that Cosla's current difficulties are caused by too many people forgetting the founding principle that drives any national or local government association anywhere in Europe.
"That principle is there is a common good for local government and therefore local people and it can only be protected, enhanced and developed by consensus, joint working, mature discussion and decision making, and when it comes right down to it a willingness to accept the fact that a common good is just that - something that is the best for everybody, not just the best for a few."
Mr O'Neill will also take on critics who question what the organisation has been able to achieve.
He'll claim Cosla has helped ensure that local government has had a better financial deal than some other parts of the public sector in Scotland.
He'll also argue that local government in Scotland got a better deal from the Scottish government than councils in England - where the equivalent of Cosla doesn't represent every council - got from Westminster.