Workers at Faslane and Coulport stage walkout over pay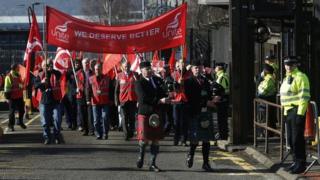 Hundreds of workers at the Faslane and Coulport naval bases on the Clyde have staged a mass walkout.
Members of the Unite union began a work-to-rule and overtime ban at midnight in a dispute over pay.
Babcock Marine said that its offer of just over 2% was a fair one and staff had been offered above-inflation pay increases for the past three years.
Unite suspended a planned stoppage last month but revived action after most of its members turned down the 2% offer.
The Faslane base is home to the UK's fleet of Trident nuclear submarines.
Unite said this was the first time workers at the base had gone on strike.
'Had enough'
A two-hour walkout took place at the Faslane and Coulport bases on Tuesday morning. It will be followed by "staged stoppages" from Wednesday, as well as the work-to-rule and overtime ban.
Unite national officer Ian Waddell said: "Quite simply workers on the Clyde have had enough - enough of below inflation pay deals, enough of one-off pay inducements and enough of an employer that wants to impose instead of negotiating.
"We are now in the ridiculous situation where Babcock's top four directors are sharing a £7m bonus pot and making merry with 9% increases to their six-figure salaries yet the company refuses to negotiate a basic, one-year deal that helps our members match the cost of living.
"The disparity is beyond a joke now for workers on the Clyde who have fallen behind their industry's average pay rates following four years of real-terms pay cuts despite doing everything to help this private sector giant fulfil its business objectives."
Babcock has said it was "surprised" by Unite's decision.
A spokesman said: "We have engaged with our trades unions and carefully listened to their specific concerns.
"We have gone back to them with a new multi-year deal which significantly increases the consolidated pay element at their request and provides an opportunity for further reward.
"Babcock is a successful organisation and this has enabled us to award pay increases in the 2011 and 2012 period. Added to the 2013 offer that we've made, our industrial workforce would receive an increase of 8% over the three years, as well as one-off payments totalling £650.
"We believe this to be a fair and reasonable offer and are very disappointed by the decision to flatly refuse this offer and proceed with industrial action."