Countdown clock unveiled in Glasgow's Commonwealth Day celebrations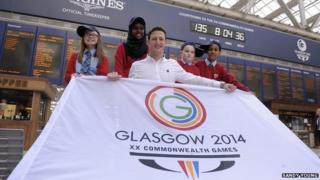 The official countdown to Glasgow 2014 has been stepped up as part of celebrations in the city to mark Commonwealth Day.
All of the Commonwealth's nations and territories take part in the day which is held on the second Monday of March.
Scottish swimmer Michael Jamieson attended a number of events to mark the occasion in Glasgow.
A giant clock was unveiled at Central Station counting down the days until the opening ceremony in July.
'Showing support'
Olympic silver medallist Jamieson joined school children at Hillhead Primary School who wore trainers to school to show their support for Glasgow 2014.
The Scottish swimmer then switched on the countdown clock at Glasgow Central.
He said: "It has been great to be here in Glasgow and celebrate Commonwealth Day, Sport Your Trainers and the switch on of the Glasgow 2014 clock. It just brings home to me how fast the clock is ticking to July."
"Glasgow 2014 is going to be one of the highlights of my career and I'm delighted to be playing a part in the run up to the Games in my home town as an ambassador."
Shona Robison, Minister for Sport and the Commonwealth Games, said: "Time is racing towards Glasgow 2014, what will be the best Commonwealth Games ever, and I for one cannot wait for the clock to reach zero.
"Commonwealth Day and the Games are about enjoying our connections with other countries, their people and their cultures, as we have been doing through the Queen's Baton Relay and at home as we prepare to host the Commonwealth. "
The opening ceremony for the Commonwealth Games will be held on 23 July at Celtic Park.