Glasgow Film Festival celebrates its 'best year'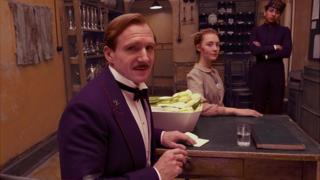 This year's Glasgow Film Festival has been the most successful year to date, with record-breaking ticket sales, its organisers have said.
The festival saw 41,541 admissions over the 11 day programme, the highest in its history and up 6% on last year.
The event, which is now in its 10th year, is to be extended by a day next year due to demand.
This year's festival hosted the premieres for films from across the globe as well as Scottish submissions.
It is said to now be the third largest film festival in the UK after London and Edinburgh.
The festival opened on 20 February with a screening of Wes Anderson's The Grand Budapest Hotel.
The final screeningwas Under the Skin, a sci-fi thriller shot in Scotland starring Scarlett Johansson, last weekend.
'Hundreds of screenings'
Hundreds of screenings and events were held across the city with stars such as Richard Dreyfuss, Jason Priestley and Richard Ayoade attending.
Festival co-director Allison Gardner said: "We're really pleased with these final figures. It's great to end our tenth year on such a high note.
"Because of overwhelming public response and demand this year, we've decided to expand out for an extra day to fit in even more great films and exciting events all over the city.
"Glasgow Film Festival has always been focused on its audience and they've made it clear they want more."