2014 Commonwealth Games Clydesiders see their uniforms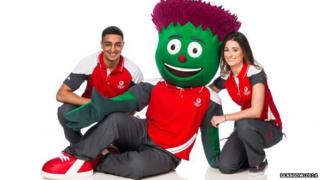 The uniforms that will be worn by Commonwealth Games volunteers have been unveiled during a huge induction event at Glasgow's Emirates Arena.
Up to 18,000 volunteers, known as Clydesiders, are attending orientation sessions on Friday and Saturday.
They are being joined by Glasgow 2014 staff who will help them look after the spectators and athletes at the games.
Each event culminates with the unveiling of the various Clydesider uniforms during an on-stage catwalk.
Created by outdoor clothing manufacturer Trespass, the uniforms for the games workforce are made up of a red polo shirt, grey trousers, red and white soft shell jacket, red cagoule and grey hat.
The company has also created the casual uniform for the technical officials, which is in blue and green.
'Greatest games'
Commonwealth Games Minister Shona Robison said: "Clydesiders are at the heart of the games, their warm welcome, smile and enthusiasm will help make these the greatest games ever.
"I look forward to seeing Clydesiders in their uniforms, designed and supplied by a Glasgow business, becoming a familiar, friendly sight this summer."
The response to the uniforms being unveiled was positive, with many of the volunteers praising the design and colour schemes of the various uniforms.
Afzal Khushi, director of Trespass, said: "Everyone here at Trespass is immensely proud to have been involved in creating something which will be an integral part of the games and which will be a lasting memory and impression on visitors and locals alike.
"We wanted to create something which was both practical and stylish, would reflect the city and would help the Clydesiders and workforce stand out from the crowd."
With 137 days to go until the Commonwealth Games' opening ceremony, this weekend's orientation marks the first time that many of the Clydesiders and staff have worked together.
The 2014 Commonwealth Games in Glasgow runs from 23 July to 3 August.