Celtic striker Anthony Stokes charged with assault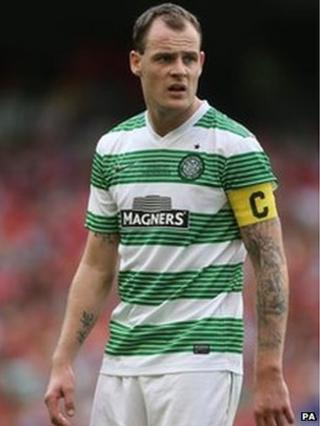 Celtic striker and Republic of Ireland international Anthony Stokes has been charged with assaulting an Elvis impersonator in a Dublin nightclub.
The 25-year-old is accused of attacking Anthony Bradley, 42, at Buck Whaley's nightclub, on Leeson Street, in the Irish capital, on 8 June last year.
The footballer made no reply to the charge at Dublin District Court.
Judge Michael Walsh remanded Stokes on bail, with no conditions, on his own bond of 1,000 euros.
Mr Stokes has been ordered to appear again before the court on 29 May.
Arranged arrest
Judge Walsh asked him to hand over details of his mobile phone to prosecuting authorities.
The court heard that the Celtic striker was arrested - by arrangement - on Chancery Street in Dublin on Thursday afternoon.
He was officially charged with assault causing harm, under section three of the Non-Fatal Offences Against the Person Act 1997.
Garda Noel Gibbons, of Pearse Street Garda station, gave evidence at the brief hearing of the arrest, charge and caution.
The garda officer agreed with Mr Stokes' solicitor Michael Staines that the footballer had co-operated with the arrest and charge.