Cyclist Graeme Obree's petition over Ugandan gay laws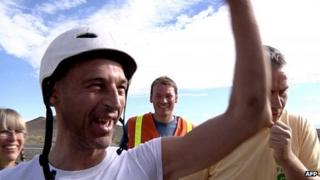 Cycling legend Graeme Obree has called for Ugandan politicians who backed the country's controversial anti-gay bill to be banned from attending the 2014 Commonwealth Games in Glasgow.
The former world champion cyclist has launched an online petition entitled "No Hate at the Games".
Obree, who announced he was gay in 2011, says the games should "take a stand against those who stir up hate".
The Ugandan law includes life sentences for gay sex and same-sex marriage.
In February, Ugandan President Yoweri Museveni signed into law a bill toughening penalties for gay people.
'Downright scary'
The new law allows life imprisonment as the penalty for acts of "aggravated homosexuality" and also criminalises the "promotion" of homosexuality", where activists encourage others to come out.
In his petition, Scots cyclist Obree states: "Life for gay people in Uganda is downright scary.
"Hate lists with names and faces of gay people are on the front page of newspapers, they're being beaten while they go to the shop, stalked in the streets in broad daylight, and even killed. And now the new anti-gay bill just passed is set to make it much, much worse."
Obree goes on to urge organisers of the 2014 Commonwealth Games in Glasgow not to invite those Ugandan politicians who supported the bill.
'Take a stand'
He states: "Let's make this games not only an event which rightly celebrates the sacrifice, skills and supreme efforts of the athletes and representing nations, but one where we take a stand against those who stir up hate.
"In days, Lord Smith and the organising committee of the 2014 games will begin inviting dignitaries. Let's call on them to make sure that Ugandan politicians who backed this bill are off that list, and tell them they are not welcome in the VIP boxes of our country.
"Sign now and share this with everyone - let's let Lord Smith and his organising committee know that Uganda's decision to pass this bill has appalled right-minded people around the world."
By 13:00 on Wednesday, the petition had attracted almost 1,400 online signatures.
A Glasgow 2014 spokesman said: "Glasgow 2014 is a diverse and inclusive organisation and in line with the Commonwealth Games core value of equality, aims to engage individuals from all backgrounds, regardless of race, religion or sexual orientation.
"We remain firmly focused on delivering a games that can be a demonstration of the positive and unifying power of sport.
"Every Commonwealth Games Association participating in the Glasgow 2014 Commonwealth Games is wholly responsible for extending invitations to their appropriate dignitaries, including their Sovereign or Head of State, Sports Minister and High Commissioner.
'Reprisal danger'
"Commonwealth Games Associations are also responsible for ensuring their guests are compliant with the Commonwealth Games Federation's protocol guidelines for each nation and territory.
"The Glasgow 2014 Organising Committee is not responsible for issuing invitations to the Commonwealth Games to foreign dignitaries."
Scottish Green MSP Patrick Harvie told BBC Radio Scotland's John Beattie programme that while Obree's motives were admirable, it was not a good idea to exclude, boycott or not welcome countries associated with the games.
He said: "We know that there are human rights organisations in countries like Uganda who are concerned that that kind of step could lead to reprisals against LGBT (lesbian, gay, bisexual and transgender) people.
"What we should be doing is asking: 'How can we help those organisations and campaigners working to try and achieve progress toward equality in their countries'."
The MSP added: "Homosexuality between men was only decriminalised in 1980.
"The progress that we've seen since then is a set of lessons that we can draw from and help other countries, other equality campaigners, build their capacity to achieve what they need to achieve."