Strike back on at Faslane and Coulport bases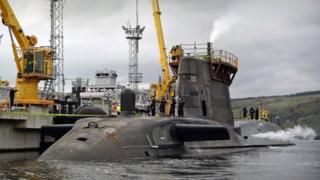 Suspended strike action at the Faslane and Coulport naval bases on the Clyde is back on after pay talks collapsed.
The Unite union said its members had overwhelmingly rejected a pay offer of just over 2% from Babcock Marine.
The union now plans to commence a two-hour stoppage at both bases from 10:00 on 11 March. A work to rule will also come into force, with a ban on call-outs and non-contractual overtime.
Babcock said it was disappointed by the decision.
The Faslane base is home to the UK's fleet of Trident nuclear submarines.
Unite members initially voted to take strike action over a below-inflation pay offer of 1% from Babcock Marine.
The action was called off last month after Babcock Marine indicated it wanted to return to negotiations and agree an improved pay offer.
'Prolonged action'
Unite said the company had made a new offer of 2% a year for the next two years, and offered a further 0.2% each year tied to working-time and practice reforms.
The union said this was "rejected by a staggering margin of 732 to five - effectively increasing the previous 95% mandate received for action".
Unite national officer Ian Waddell said: "We entered talks, suspending our industrial action in good faith, in the hope that we could negotiate a deal that would give this loyal workforce the fairness it deserves, but the company tabled its new position and that was the end of the matter.
"A prolonged period of industrial action will severely disrupt day-to-day operations at the Faslane and Coulport bases, but the workers will strive to ensure the safety of the workforce, the naval base and the local communities will not be compromised.
"Unite remains ready and willing to sit down with Babcock again or indeed under the auspices of the conciliation service to try and resolve this dispute which can be easily avoided but the ball is firmly back in the company's court."
Babcock said it was surprised by Unite's decision to turn down what it described as a "reasonable offer".
A spokeswoman added: "We have gone back to them with a new multi-year deal which significantly increases the consolidated pay element at their request and provides an opportunity for further reward.
"This means that over the last three years, including the 2013 pay deal on offer, our industrial workforce would have received total consolidated pay increases of 8% as well as one-off payments totalling £1,150, well above the UK national average pay increase during the same period.
"We believe this to be a fair and reasonable offer and are very disappointed by the decision to flatly refuse this offer and proceed with industrial action."