Stagecoach to invest more than £100m in 'record order'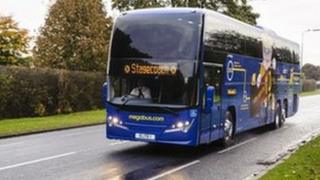 Stagecoach has placed "record orders" worth more than £100m in the next financial year for hundreds of new buses and coaches.
The Perth-based group has unveiled orders for 568 new vehicles in 2014/15.
News of the investment came after the firm reported strong financial figures, with a 4.6% rise in half-year regional bus revenue.
Stagecoach has now spent about £545m in new vehicles across the UK over the past seven years.
Of the overall investment in the next financial year, £81m is being spent on 495 new vehicles to go into service across Scotland, England and Wales.
In addition, a £21m fleet of more than 70 greener hybrid buses will be introduced to its London operation.
The firm said the order was its largest ever, and will help to support hundreds of small businesses and jobs.
All of the new vehicles will be fitted with CCTV, while more than 350 will have wi-fi installed for free internet access.
'Record investment'
The order followed the firm's annual competitive tendering process, and the first of the new vehicles will be delivered from spring this year.
Stagecoach said the "vast majority" of the new buses and coaches will be produced in the UK.
Group chief executive Martin Griffiths said: "This record investment is a major boost for UK jobs in manufacturing and many other smaller businesses in the supply chain.
"By investing in quality and continuing to offer the best value travel of any major operator in the UK, we can help people save money, rely less on their cars and use a greener way to access work, health, education and leisure."
The investment was welcomed by bus and coach builder Alexander Dennis Limited (ADL) who said that the record order would help preserve production jobs at all three of their UK production factories, including a plant at Falkirk where the firm employs 900 staff.