Burned baby Mohammad Sudais resuscitated before surgery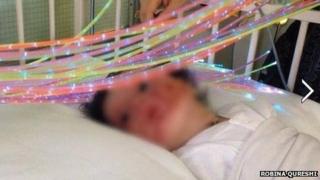 A baby who was badly burned in a gas explosion in Pakistan was resuscitated by medics before undergoing life-saving treatment in Scotland, it has emerged.
Mohammad Sudais stopped breathing on Tuesday - the day before he was underwent surgery at Yorkhill Sick Children's Hospital in Glasgow.
He is now recovering after a successful operation on Wednesday.
Mohammad was brought to Scotland after the accidental explosion killed his father, mother and brother.
He was just under two months old when an explosion ripped through the apartment block where he stayed in Peshawar last December.
Medical visa
The accident killed his father Mohammad Ameen, 30, mother Sumaira, 28, and 13-month-old brother Abdul Haseeb.
When doctors in Pakistan said they could do no more to treat him, Mohammad's uncle, who lives in Glasgow, successfully applied for a medical visa to bring him to Scotland.
Since arriving last Thursday, the child has been treated by Dr Stuart Watson, from Glasgow Royal Infirmary Canniesburn Plastic Surgery Unit.
He is now recovering at the high dependency unit at Yorkhill Sick Children's Hospital.
Glasgow charity, Positive Action in Housing (PAH), has been part of the campaign to raise funds to allow Mohammad to receive treatment in Scotland.
PAH director Robina Qureshi said everyone was relieved that he had come through the operation.
She said: "The last six days have been a roller coaster. Last night [Tuesday] we thought we had lost him.
"It gives an idea of just how much this child has been through in his first four months of life.
"To lose his parents and baby brother in a Peshawar gas explosion, to be horrifically burnt beyond recognition, then endure the waiting and the complicated logistics of being transferred."
Ms Qureshi said the charity would now spearhead a campaign to keep Mohammad in Scotland.
"We are now taking steps to secure baby Mohammad's future in Scotland instead of relying on a six-month medical visa.
"We are putting the UK Borders Agency on notice that the baby's solicitor will be vigorously pursuing Mohammad's case for remaining in Scotland permanently with his new family, his uncle, Mohammad Asif, his wife Naseema and four children."