South Lanarkshire Council settles equal pay dispute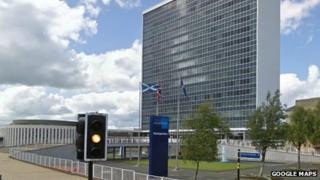 South Lanarkshire Council has settled a long-running equal pay dispute involving more than 3,000 people.
Current and former female employees argued that they were earning less than men in comparable, but different, jobs.
The authority agreed to more talks last year after failing in a legal bid to block a freedom of information request on its pay scales.
It has now agreed a financial settlement, the details of which are being kept confidential.
Paul Manning, the council's executive director of finance, said: "South Lanarkshire has long been committed to equality of pay for those in comparable jobs, regardless of gender.
'Positive outcome'
"We are glad to be in a position to continue to lead the way on this issue by settling with these claimants."
The long-running dispute has thrown up some embarrassing legal setbacks for the council.
In June 2012, an employment tribunal ruled that some of the authority's job evaluations did not comply with the Equal Pay Act.
In July last year, it's attempts to block freedom of information requests on pay scales from Action 4 Equality Scotland, were thrown out by the Supreme Court.
South Lanarkshire Council admitted that the failed legal action was likely to cost it up to £200,000.
A month after the ruling, the council and lawyers for the female staff agreed to delay employment tribunal hearings while "exploratory discussions" took place.
After six months of discussion, an agreement has now been reached.
'Complex case'
South Lanarkshire Council leader Eddie McAvoy said: "The administration has been guided throughout this process by the legal advice we have received, but we've always been very clear that any claimants who were entitled to additional money should get it.
"Towards the end of last year it seemed that the circumstances were right to try to achieve a negotiated settlement, and I am pleased that the talks have concluded successfully."
Carol Fox, of Fox and Partners, which represents some of the staff, said: "This has been a complex and long-running case but we are delighted that we have been able to secure a settlement that we can recommend to our clients.
"It has taken a considerable amount of time and legal work to progress a mass settlement for more than 3,000 individual claimants.
"We will be contacting everyone in due course to outline what the settlement means for them, and we ask everyone for their continued patience and co-operation as we do that in the coming months."
Action 4 Equality Scotland's QC, Stefan Cross, added: "This is good news for our clients and brings to an end an important chapter in the equal pay issue."