Glasgow 2014: Police squad to accompany Queen's Baton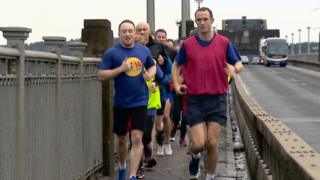 A special team of police officers is to provide security for the Queen's Baton as it tours Scotland ahead of the Glasgow 2014 Commonwealth Games.
The baton is currently in Ascension Island, on route for the Falklands, as part of its tour of all 70 Commonwealth nations and territories.
Police Scotland is training officers to accompany it when it arrives here.
They will have to run half a marathon a day for 40 days and be prepared for any eventuality.
More than 800 officers applied for 20 positions on the Queen's Baton security team.
Bleep test
As the candidates jog out to the Kincardine Bridge from the police training college at Tulliallan they are getting a flavour of what their summer tour of Scotland will be like.
They will get to see some of the country's finest scenery, keep fit, and play an important role in the Commonwealth Games.
As Sgt Michael Bell from Fort William says, "What is there not to look forward to?"
"It's just going to be fantastic," he adds.
"Getting out and seeing around the country, obviously hopefully there will be a lot of people out, meeting people and other cops as well."
Although before all that, there is the bleep test. It is a measure of cardiovascular fitness used on athletes, but in this case employed to whittle down more than 800 applicants from across Scotland to the 40 who are still on target to make the final force.
The recruits have to make a standard that replicates the level of heart rate they would expect to have if they need to respond quickly to any incident around the baton's security.
The Commonwealth Games will be the first major event that Police Scotland has been involved in since they became a single force last April. Policing the baton will be the first test of that.
Supt Stewart Carle, from Police Scotland's Commonwealth Games Policing Team, said: "The Queen's Baton Relay is a great spectacle for Scotland and our role is to make sure it gets safely and securely around the country so as many members of the public as possible can enjoy the experience.
"So we've selected a team of 40 police officers who are going through fitness training and officer safety training so that they can accompany the baton as it makes its progress through Scotland."
The Queen's Baton arrives back in Scotland on 14 June. It will then travel through 450 towns and villages, visiting schools and community centres, as well as touring the streets.
The security squad will accompany it for its 4,000km (2,485 miles) journey. They will run 800km (497 miles) of that, the equivalent of a half marathon a day.
The training programme was devised for officers travelling with the Olympic Torch, it is designed to prepare for any potential incident.
But perhaps the most difficult challenge for these officers will be to run at baton pace.
After all, each of the 4,000 Baton bearers will be looking to make the most of their time in the limelight.