Metal theft summit to highlight victims and costs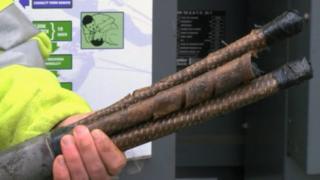 Metal theft risks lives and causes millions of pounds worth of damage, according to the Scottish Fire Service.
It is hosting a major summit to discuss ways of tackling the problem.
The event will bring together firefighters, British transport police and representatives from businesses and power companies.
Last November, four house fires broke out and about 280 properties suffered power cuts after a copper wire theft at an electricity substation in Greenock.
This, and other similar incidents, are being highlighted as examples of the impact metal theft can have on public safety and the economy.
In Perth, in October last year, a man and his pregnant wife had a lucky escape when a surge caused by thieves stealing live overhead cables set their house on fire.
Scottish Power Energy Networks' also said one attempted theft at a substation in Shotts in North Lanarkshire led to the death of the man involved.
'Terrible consequences'
Assistant chief officer at the Scottish Fire and Rescue Service, Lewis Ramsay, said metal theft was not a "victimless crime".
"Thieves' interference with power infrastructure has caused surges of electricity resulting in fires breaking out and flames and toxic smoke taking hold within homes," he said.
"We have also seen cases where high-rise buildings have been left at severe risk due to thieves vandalising fixed equipment needed to get water to firefighters tackling a blaze.
"It isn't hard to imagine the terrible consequences of a fire within a block where there is significant delay getting water to our crews.
"Those involved in metal theft must know their actions put the public at risk as well as the firefighters and our fellow emergency responders who are called to emergencies."
The Scottish government is currently looking at tightening up the licensing structure of scrap dealers as part of its Licensing Bill.
Justice Secretary Kenny MacAskill will address the summit which is taking place at the fire service's West Training Centre in Cambuslang.
He said: "Metal theft causes huge problems for individuals, communities and businesses and the Scottish government is committed to cracking down on this extremely harmful, illegal activity.
"Along with proposals for tougher legislation, more effective enforcement has been introduced including the British Transport Police team dedicated to tackling metal theft.
"The Crown Office and Procurator Fiscal Service has also adopted a tougher prosecution policy in relation to this issue and courts now reflect the full consequential costs from an offence."
'Communities blighted'
British Transport Police said it had seen a 50% drop in cable and metal thefts in the last year but that it remained a big problem.
"Our communities are still being blighted; trains are still being delayed; electricity sub-stations are still being broken into; dry risers damaged, lead is still being stolen from church roofs and plaques are still being ripped off war memorials," said Ch Supt Ellie Bird.
She added: "The force has established a dedicated team who have become crucial in ensuring damage, theft or disruption to major infrastructure projects is avoided.
"Our officers are now embedded in the Borders Railway and Edinburgh to Glasgow Improvement Project and working closely with a range of partners to mitigate any threat from thieves."