Jack Vettriano retrospective breaks Kelvingrove Gallery record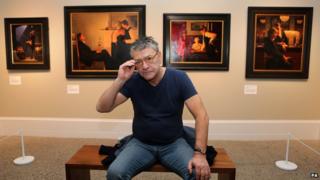 An exhibition of Jack Vettriano's work has ended a record-breaking run at Glasgow's Kelvingrove Art Gallery.
A total of 132,502 people attended the exhibition between 21 September 2013 and Sunday 23 February 2014.
This beats the previous most visited exhibition - the 2010 Glasgow Boys showcase which drew 123,289 visitors.
More than 100 of Vettriano paintings, from private collections around the world, featured in the first major retrospective of the artist's work.
Some of Vettriano's best-known paintings were on display, including Dance me to the end of Love (1998), Mad Dogs (1992), Long Time Gone (2006), Bluebird at Bonneville (1996) and The Billy Boys (1994).
More than 2,500 visitors attended the Kelvingrove for the exhibition over its final weekend, with opening extended until 20:00.