'Crisis looms' for factoring in Glasgow, report warns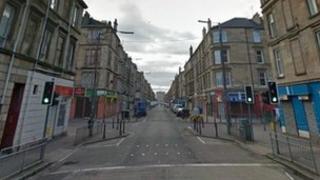 A crisis is looming in property factoring in Glasgow, according to a report for the city council.
Factors are the agents appointed by owners to look after common repairs in blocks of flats.
A report commissioned by Glasgow City Council warns of major consequences if current problems persist.
In the past nine months, six tenements in the city without factors have had to be evacuated because they were in such a serious state of disrepair.
The report from the Glasgow Factoring Commission argues professional factors need to modernise the way they do business and improve how they respond to their customers.
'Enormous cost'
It says the single most important change that could be made would be to improve the quality of information available to property owners.
The report raises questions for everyone with an interest in how Glasgow's housing stock is managed, whether that be factors, flat owners, the council or the Scottish government.
Bailie Liz Cameron, the council's executive member for development and regeneration, said: "In the past nine months six tenements in Glasgow have had to be evacuated because they have fallen into a dangerous state of disrepair.
"That has enormous cost implications for the owners and the council and in every case the tenements were unfactored.
"I know factors have received a bad press and in some cases that is fully deserved. But a good and effective factor can play a fundamentally important role in ensuring the upkeep of shared property."
The report highlighted concerns that a lack of maintenance is contributing to falling property prices and is threatening the longevity of certain buildings.
It said that owners failing to invest in their property "is likely to lead to significant damage to the economic and social fabric of hitherto stable parts of Glasgow".
Neglected buildings
The chairwoman of the commission, Jean Charsley said: "Almost three-quarters of the homes in Glasgow are within shared property and it is the responsibility of owners and property managers to ensure that property is kept in good order.
"Neglected buildings also affect their neighbours and the whole area.
"The report highlights what needs to be done and I'm delighted the council is taking on board the recommendations made by the commission."
Ms Charsley said the commission recognised that Glasgow alone could not solve all the problems.
"Some recommendations will require the assistance of the Scottish government if they are to be implemented properly," she said.
"If owners, factors, the council and the government take on board the issues raised in the independent report there will be way forward for the ongoing upkeep of the substantial majority of Glasgow's homes."
The council plans to establish a website to help answer common questions.