Medics hail 'kidney swap' scheme after Scots success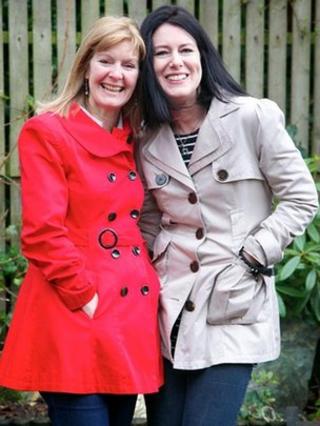 Medics in Scotland have hailed the success of a kidney pairing scheme which allowed a gravely-ill woman to receive a transplant.
Sue Heathcote, 55, from Ayr, underwent the procedure to help her sister-in-law Claire, 41, to receive a new kidney.
Under the scheme, kidneys are swapped between one incompatible donor and recipient and another mismatched pair.
Transplant surgeon Marc Clancy said this was "extremely welcome" when there was a shortage of organs available.
Mother-of-two, Claire Heathcote, has suffered from a form of kidney failure since birth.
After a period of deteriorating health, she was told that a replacement kidney was the only option open to her.
'Altruistic donor'
Despite family members offering to help, no matches were found until Sue Heathcote registered for the kidney pairing scheme.
Sue Heathcote said: "We did not get a match in our first run in October, or January or April 2013.
"However, in July last year Claire got a call to say that we had matched. An altruistic donor had kindly donated to the pairing pool and their kidney matched with Claire.
"I still had to agree to donate my kidney as the altruistic kidney was in the pool and therefore someone would still need mine."
The operation went ahead at the Western Infirmary in Glasgow on 27 September last year and both women are now back at work.
Mrs Heathcote added: "It's made such a difference to Claire's life and I was so happy to do this as she is the type of person who would have done it for me."
Mr Clancy, who is lead clinician for transplant at NHS Greater Glasgow and Clyde, said the kidney pairing service was a welcome development when people were dying due to a lack of available organs.
He said: "Paired donation is when a donor and recipient are incompatible or mismatched with each other, either by blood group or by tissue type, it may be possible for them to be matched with another donor and recipient pair in the same situation and for the kidneys to be exchanged or swapped.
"The benefit of this type of donation is that each recipient receives a transplant that they would otherwise not have."