Commonwealth Flotilla to sail from Greenock to Glasgow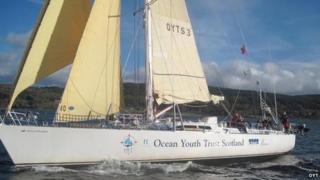 A Commonwealth flotilla of 250 boats will sail from Greenock to Glasgow in late July to mark the 2014 games.
The Royal Yachting Association Scotland is organising the mass-participation event to arrive at Pacific Quay on the Clyde during the Commonwealth Games.
Its chief executive James Stuart said it was a "once-in-a-lifetime event" which would be "the largest assembly of boats that the Clyde has ever seen".
The boats will muster at Greenock's James Watt Dock on Friday 25 July.
They will make the 17-nautical-mile journey to Glasgow the following day.
The Glasgow 2014 games run from 23 July to 3 August.
Inverclyde Council has approved £250,000 to help support the event. The investment will also secure longer-term improvements to James Watt Dock.
Inverclyde Council's Environment and Regeneration convener, councillor Michael McCormick, told BBC Scotland: "We are very keen to promote tourism in Inverclyde. We think we have a good news story to tell here.
"We are more than happy to invest in what will be a fantastic event.
"We had the Tall Ships Race in 1999 and 2011 and for the last event we reckon we had in excess of 200,000 visitors to Inverclyde. We think it generated £10.4m for the local economy."
Flotilla organisers plan to install new pontoons for berthing boats in the area beside the Science Centre and BBC Scotland's headquarters, west of Glasgow city centre.
As the flotilla heads up the river, the boats of all shapes and sizes will be joined at Bowling by other craft which will have sailed along the Forth and Clyde Canal.
In the preceding days, boats will have taken part in the Homecoming Muster, a cruise that navigates Scotland's west coast, starting in the Western Isles, travelling through Argyll and the Isles before arriving in Greenock.
A number of informal feeder events will allow sailors travelling from England, Wales, Northern Ireland and Ireland to join up with their fellow travellers in the journey to Scotland.
In addition, from 18-25 July more than 200 young people on 15 yachts will take part in the Small Ships Race from Greenock around Arran, Portavadie, Kyles of Bute and back to the starting point at James Watt Dock where the historic sugar sheds will host a dinner for 1,000 people.
At Portavadie, sailors will watch the Commonwealth Games opening ceremony on a big screen.
RYA Scotland's chief executive James Stuart told BBC Scotland: "The Commonwealth Flotilla will be the largest assembly of boats that the Clyde has ever seen, and we want to make sure that as many sailors, non-sailors and spectators have the opportunity to make history by being part of this once-in-a-lifetime event.
"We estimate that more than 1,000 people will make the journey from Greenock to Glasgow as part of the Commonwealth Flotilla, and we know the people of Glasgow will turn out in similar numbers to witness this unique event.
"Already there is strong interest in being part of the Homecoming Muster and Commonwealth Flotilla from people across the UK and further afield, and we expect interest and excitement to build as we get closer to the last weekend in July."
One of the boats which has already registered to take part is the Alba Volunteer, operated by the Ocean Youth Trust Scotland. The charity seeks to build confidence and team-working skills in young people by taking them out on sail boats.
Nick Fleming, the organisation's chief executive, said: "These events will serve as an amazing opportunity to inspire young people through adventure under sail.
"We can't wait to take part and that's why we have already signed up to give young people from across Scotland the opportunity to be part of this historic Flotilla, and to raise awareness of the work we do so that we can provide this opportunity to more young people."
Caroline Packman, director of Homecoming Scotland 2014, added: "The Year of Homecoming provides a unique opportunity to encourage more and more visitors, both international and domestic to come and enjoy Scotland.
"Combined with the stellar international sporting events of the Commonwealth Games, the plans unveiled for the Commonwealth Flotilla and the Homecoming Muster will be a stunning and memorable sight for visitors and locals to enjoy."