Burned baby Mohammad Sudais arrives in Scotland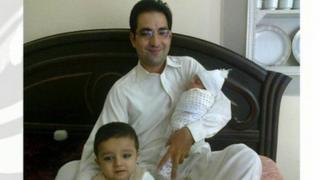 A baby who was badly burned in a gas explosion in Pakistan has arrived in Scotland for life-saving treatment.
Mohammad Sudais was just under two months old when an explosion ripped through the apartment block where he stayed in Peshawar last December.
The child's uncle, who lives in Glasgow, applied for a visa so his nephew can get treatment in Scotland.
The accident killed his father Mohammad Ameen, 30, mother Sumaira, 28, and 13-month-old brother Abdul Haseeb.
Doctors in Pakistan said they could do no more for the baby and recommended that he be treated in Glasgow.
The child and his uncle, Mohammad Asif, arrived on an Emirates flight at Glasgow Airport just before 19:00 on Thursday.
Mohammad was taken to Yorkhill Hospital where nurses and doctors will spend the next few days assessing him.
The NHS are meeting the cost of his specialist treatment.
Glasgow charity Positive Action in Housing (PAH) has been part of the campaign to allow Mohammad to receive treatment in Scotland.
The charity's trustee Tom Harrigan is also to be a trustee of the Baby Mohammad Appeal.
Special needs
He said: "We are very glad Baby Mohammad is now in Scotland. I personally would like to thank everyone who donated so generously to this appeal.
"I'd also like to show my appreciation to the Scottish government for its spontaneous support.
"The money raised will be utilised to help with Baby Mohammad's present and future special needs, and we will keep everyone updated as to his progress."
PAH director Robina Qureshi said: "When we began this appeal 12 days ago we never imagined the generosity that would come forward from people across the UK.
"I'm glad we were able help in some small way."
She added: "Baby Mohammad's arrival in Scotland is a measure of this country's renowned humanitarian spirit. For now, he is Scotland's baby."