Killer driver James Neill jailed over Natasha Clark death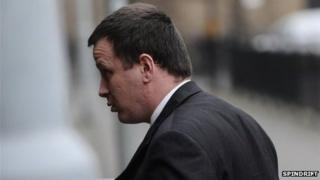 A speeding driver who caused the death of a teenage girl in a high speed crash on a country road in Argyll has been jailed for nine years.
James Neill, 35, from Tarbert, Argyll, crashed his Honda Civic on the A83, near Erines, on 20 August 2012.
His three passengers were injured, including 17-year-old Natasha Clark, who later died in hospital.
Neill, who had been driving at speeds of up to 110 mph, admitted causing her death by dangerous driving.
When he appeared for sentence at the High Court in Edinburgh, judge Lord Stewart told Neill his speed had been "grossly excessive".
'Complete disregard'
The judge continued: "The danger to passengers of your vehicle and other road users was obvious but you continued in complete disregard of pleas to slow down."
Lord Stewart said he knew the stretch of road well - but that had not influenced him.
What had influenced him, the judge said, was material produced in court by prosecutors which included a "drive through" video and photos of the crash scene.
Neil was also banned from driving for 15 years and ordered to take an extended test before getting behind the wheel again.
A previous hearing at the High Court in Paisley heard how Neill was repeatedly told to slow down and "stop pushing it" by his three passengers.
One local motorist, Davie Russell, who was driving in the opposite direction before the crash, told police that it was the fastest he had ever seen a car travelling on that road.
Neill lost control of the car as it entered a bend heading towards Tarbert. It was later estimated he had been driving in excess of 70mph at the time.
The vehicle spun over to the side of the road and hit a huge boulder, then bounced back into the centre of the road.
Passengers injured
The force of the impact trapped Miss Clark and her friend Sandra Harvey, who were in the back seat.
Neill and his friend Sean McGregor, who were in the front, sustained minor injuries.
Miss Clark, who worked as a shop assistant at the Co-op in Lochgilphead, was airlifted to Glasgow Royal Infirmary, but died the following day from multiple injuries.
Miss Harvey suffered a broken leg and a suspected spinal injury.
The court heard that in the immediate aftermath of the crash, Mr McGregor rushed back to try to help the two women and shouted to Neill to get help.
At this point Neill said: "I wasn't speeding."
Neill then used his mobile phone to call a friend. He told her he had crashed the car and asked if she could come and get him.
Minutes later other cars stopped at the scene. One of the drivers called the emergency services and then helped a medical student to assist Ms Clark until the paramedics arrived.