Doosan Babcock signs EDF deal to extend nuclear plants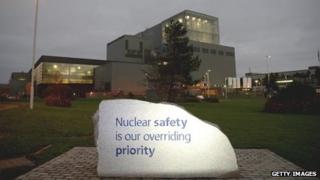 Doosan Babcock has agreed a £70m-a-year deal with French energy giant EDF to extend the life of seven of its eight UK nuclear power stations.
The contract will see Doosan Babcock support ongoing operations and deliver projects to aid life extension.
It covers Hinkley Point B in Somerset; Hartlepool; Hunterston B, Ayrshire; Torness, East Lothian; Heysham 1 and 2, Lancashire and Dungeness B, Kent.
Doosan Babcock said the deal would safeguard about 1,000 jobs.
'Close collaboration'
Cameron Gilmour, Doosan Babcock's nuclear service director, said: "Doosan Babcock has a long history of supporting EDF Energy in the UK nuclear sector and we are delighted to have been given this opportunity to further build our relationship.
"The lifetime enterprise agreement is the result of close collaboration and a great deal of planning from both our companies, and will give EDF Energy access to a range of specialist skills and technologies that will support its UK power generation strategy long into the future."
Brian Cowell, director of nuclear operations at EDF Energy, said: "Doosan Babcock's unique range of skills and capabilities in nuclear engineering, combined with its longstanding relationship with EDF Energy, makes it the ideal partner to deliver the lifetime enterprise agreement.
"The contract will enable us continue to deliver the secure, reliable, low carbon electricity the UK needs now and into the future."